Allama Iqbal Open University Admissions Fall 2022 Newest Promotion is published in the daily Jang newspaper. Currently, AIOU Admissions are open for BS Programs , BBA programs, Instructing Training programs, Article Grad Diplomas, Partner Level programs, Certificate Courses, as well as E-Commerce Abilities and also Programs. Pakistan gives full details on this web page regarding AIOU Admissions.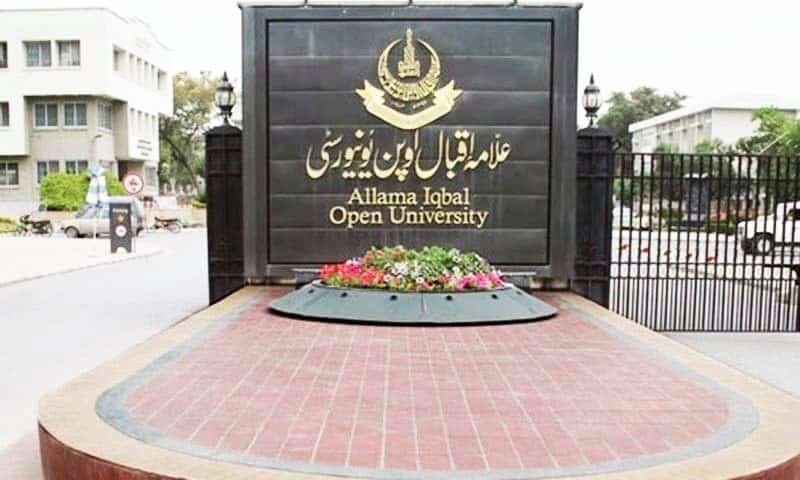 BS Programs ( ODL)
Accounting & Finance
Pakistan Studies
Urdu
Arabic
English
Gender & Women Studies
Library and Information Studies
Islamic Studies General
Islamic Studies Quran and Tafsir
Islamic Studies Shariah
Islamic Studies hadith & Hadith Science
Islamic Studies
Islamic Studies Dars – e- Nizami
Islamic Studies Interfaith Studies
BBA Programs ( 4 Years)
Bachelor of Business Administration
Teaching Training Programmes
Associate Degree in Education ( 2 Years)
BEd ( 1-1/2 Years)
BEd ( 2-1/2 Years) Science Education
BEd ( 2-1/2 Years) Elementary Teacher Education
BEd ( 4 Years) Science Education
BEd ( 4 years) Science Education ADE
BEd ( 4 Years) Secondary teacher Edu.
BEd ( 4 years) Leadership
BEd ( 4 Years) ETE
BEd ( 4 Years) ETE
Post Graduate Diplomas
Supply Chain Management
Human Resource Management
Environmental Health & Safety
Entrepreneurship
Gender & Women Studies
Associate Degree programs
Associate Degree in Arts( BA)
Open Courses
Associate Degree in Commerce
Associate Degree in Business Administration ( Islamic Banking / HRM / Marketing)
Certificate Courses ( 6 Months)
Lughat – ul – Quran
Al Lisanul Arabi
Certificate in Librarianship
French Language Course
Certificate Course in Public Health
Certificate in Literacy & Non-Formal education
E-Commerce & Online Courses
Virtual Assistant ( Wholesale) – Amazon
Virtual Assistant ( Private Label) – Amazon
Virtual Store Managerr – Daraz
Virtual Trader – Alibaba
Shopify Drop Shipping
Facebook Executive Marketing
How to Apply
Candidates should apply ONLINE through fmbp.aiou.edu.pk/application
The prospectus can be downloaded from the University website for more details.
Manual forms for ADA, ADC & B.Ed are available in regional offices and Sale points.
Continuing students are required to enroll Online at http:// online.aiou.edu.pklatest by 18 October 2022.
The fee should be deposited in any branch of ABL, MCB, FWBL, and UBL. It can also be deposited through U Paisa/ Easy Paisa / Jazz Cash.
The fee can be deposited on the same day after generating Challan.
Allama Iqbal Open University Admissions 2022 Advertisement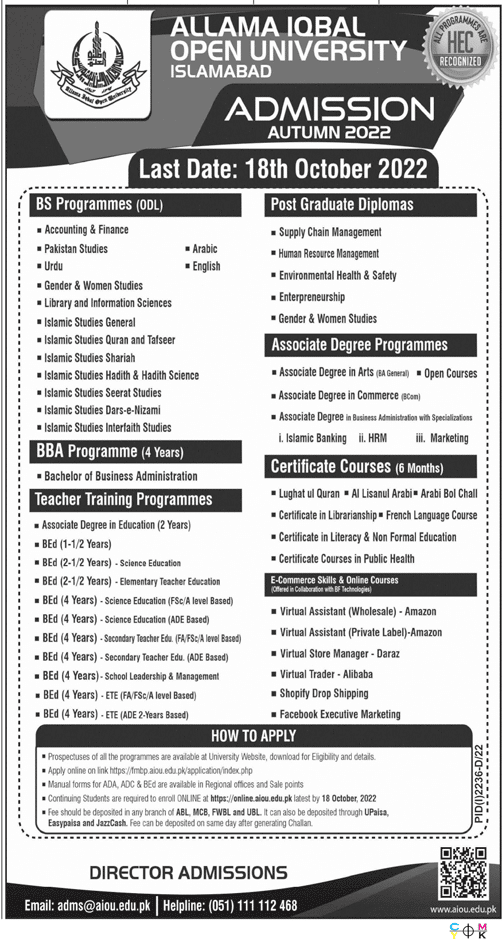 Thanks for visiting GMC. GMC is a website which provide daily admissions, scholarship, jobs and tech News.