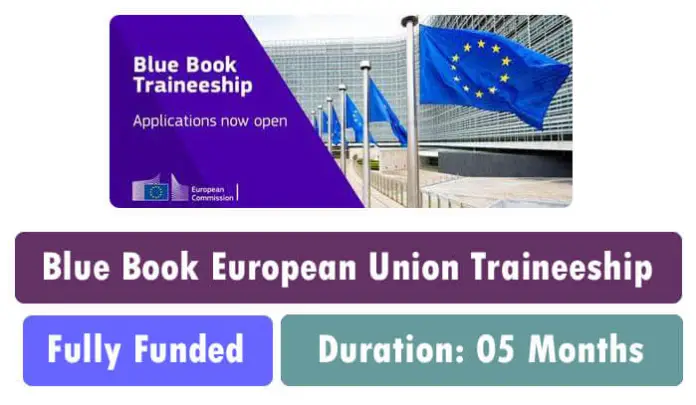 Blue Book European Union Fully Funded Traineeship 2023:
The Blue Book European Union Fully Funded Traineeship 2023 is open to all overseas aspirants who want to enhance their knowledge or polish their skills. Undergraduate students may apply for the new Fully Funded EU Blue Book internship opportunities in Europe. To start your career, the EU Blue Book is a great place. The internship funded by the European Union is open to individuals from all around the world.
The EU Blue Book Traineeship is a five-month internship in Europe for overseas aspirants and European candidates. The Blue Book European Union Traineeship 2023 will be held in Belgium and Luxembourg. Both are European countries. The EU Blue Book traineeships will begin in October 2023. Kickstart your internship A journey through Europe is a great chance to start your career. The important thing about this traineeship is that there is no previous work experience required. In addition to enhancing your expertise, it offers recent graduates a unique chance to explore political, economic, social, and cultural aspects of life in Europe and contribute to EU projects.
If you are an undergraduate student or you have graduated, then you have to apply for the Blue Book internship at the European Commission. Some of the seats will also be given to students who are doing their master's degree programs. Out of the approximately 2,500 candidates who apply for a Blue Book traineeship, roughly 650 are selected to become trainees by them. Aspirants must submit all supporting documents at the same time as the application form. The complete details about the Blue Book European Union Fully Funded Traineeship 2023 are available in the next few lines.
Read also.-SIIT Fully Funded Scholarship Programs 2023 in Thailand
Complete Overview of Blue Book European Union Fully Funded Traineeship 2023:
Name of Organization: Blue Book European Union
Funded by: European Commission
Available For: Undergraduate & Graduates
Study Mode: Online
Host Country: Europe
Application Last Date: 13st feb 2023
Financial Support:
Individuals who wish to participate in the Blue Book Traineeship Program in Europe are not required to pay any fees. The EU Commission will cover the following:
Monthly allowance of €1300 per month.
Visa costs will be reimbursed.
Medical fees will be reimbursed.
The EU will cover the travel expenditure. (Airfare Tickets)
Application Requirements:
Undergraduates and Graduate aspirants can apply for the Blue Book Traineeship 2023.
The EU traineeship 2023 funded by European Union is open to all EU citizens, regardless of their age.
A limited number of seats will also be given to non-EU nationals.
The traineeship program is open to all university graduates worldwide.
Aspirants must have completed a standard 3-year higher education degree.
Participants must have no prior work experience of any kind.
Good knowledge of English.
There is no need for an IELTS or TOEFL test.
Interested participants must have a strong academic record, as shown by recent university or school reports.
Be at least 18 years old.
Application Last Date:
The last date to apply online for the Blue Book European Union Fully Funded Traineeship 2023 is 13feb, 2023.
Guidelines for How to Submit Application for Blue Book European Union Fully Funded Traineeship 2023:
The documents required for these internships by the European Union are given below:
a copy of your:
valid ID card or passport
university qualifications of studies completed before the deadline
The application procedure to apply for these Blue Book European Union Fully Funded Traineeships 2023 is given below.
Firstly, create an EU Login account or log in with an existing one.
Complete and submit the application form along with your supporting documents
If successful, the individual will be invited to check the openings published on the VBB portal and apply for a chosen traineeship post.
Carefully read the step-by-step procedure on how to apply for these traineeships in Europe.
Thanks for visiting GMC. GMC is a website which provide daily admissions, scholarship, jobs and tech News.