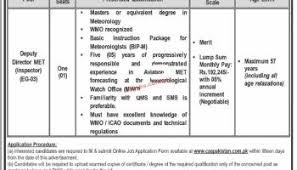 CAA Jobs 2023 Latest Advertisement Apply Online:
Caa Jobs 2023 is an ideal alternative for both male and female staff who need to work for an association where they can grandstand their abilities and love of their country. The minimum qualification for this job is a metric. Candidates with the following qualifications are eligible to fill out the application form specified in the Caa Jobs advertisement 2023.
Job opportunities in the aviation industry have been increasing rapidly in recent years. One of the most sought-after jobs in this industry is a job with the Civil Aviation Authority (CAA). In this article, we will provide you with all the necessary information about CAA jobs, including the application process, eligibility criteria, and available job positions.
Read also.-Sindh Bank Jobs 2023 Latest Advertisement Online Apply
Caa Jobs Vacancies List:
Agriculture Business Manager
Traffic Analyst Supervisor
Lab Technician
Assistant Director
Technician
Security Sub Inspector
Security Assistant
Junior Electrician
Clerk
Key Punch Operators
Computer Operator
Operator Special
Research Associate
Accountant
Sweeper
Engineer
Naib Qasid
Lady Receptionist
Laskar
Skilled Manuals TSC
Deputy Director (Engineering)
Eligibility Criteria
The eligibility criteria for CAA jobs vary depending on the job position. However, in general, you need to have a bachelor's or master's degree in the relevant field, such as engineering, computer science, or management. Additionally, you need to have relevant work experience and meet the age criteria.
Caa Jobs Contact Details:
Official Website
www.caapakistan.com.pk
Contact Number
+9221.99071111
Email address
—————————–
office address
Headquarters Civil Aviation Authority,
Terminal 1 Building,
Karachi Airport,
Karachi, Pakistan.
Job Positions
There are several job positions available at CAA, including air traffic controllers, engineers, pilots, and administrative staff. Each job position has its own set of requirements and responsibilities. Air traffic controllers are responsible for managing air traffic in the airspace around airports, while engineers are responsible for maintaining and repairing aircraft. Pilots, on the other hand, are responsible for flying the planes, while administrative staff are responsible for managing the day-to-day operations of the organization.
Caa Jobs Salary and Benefits:
Every individual wants to be a part of Jobs as it offers so many benefits and respect. Some of these benefits are listed below.
Duty schedules can be flexible
The path to a successful career
Food for free
Team members who are helpful and professional
Allowances for medical care
A very good income per month
Training sessions are an investment
Department with respect
A work environment that is peaceful
The right to equal learning opportunities
Travel expenses and accommodation
The education of children
How to Apply for Caa Jobs Jobs?
A lot of candidates at Caa Jobs are interested in joining the company, but they are unclear on how they should apply and where they should send their resumes. You don't have to worry; everything will be handled by us. For those wishing to apply, you must first register by clicking on the link below. You will be redirected to either the official application page or the online application page by clicking on this website. Following that, you will be notified of a date for the appointment. If you pass the interview, you will be contacted shortly thereafter.
Candidates who are interested in Caa Jobsto build their careers can apply through the proper channels.
FAQs
Can I post my resume?
Yes, you can post your resume or curriculum vitae (CV).
Are there any other details about the job posting besides those already listed?
We received the information from the employer. By contacting the government agency directly, you can obtain additional information about the job postings.
How should materials for applications be sent?
You should send your resume and application to the address provided in the advertisement. Follow the instructions in the job posting.
How can I find my target job?
Target Jobs can be searched based on Department, District, Industry, and interest.
Which jobs are available?
The application process is explained in detail in the instructions.
In what time frame will a job interview be scheduled after applying?
After the posting of a job expires, the hiring process typically begins. You will receive an email if there is no response from us within 24 hours.
If I apply for a job multiple times, will it be considered?
Yes, you can apply for one or more posts.
I cannot find an answer to my question in the FAQs.
E-mail your issue and our team will contact you soon.
Conclusion
In conclusion, CAA jobs offer excellent career opportunities for individuals interested in the aviation industry. The application process is straightforward, and there are several job positions available. To increase your chances of landing a job at CAA, make sure to meet the eligibility criteria and apply for a position that matches your qualifications and experience.
Thanks for visiting GMC. GMC is a website which provide daily admissions, scholarship, jobs and tech News.