Bank Khushhali has job offers from numerous divisions. Fill out an application if you want to join Khushhali Bank. Other bank candidates offered fixed work. Khushhali Microcredit Bank Co., Ltd., sometimes referred to as Khushhali Bank, is a spirited, fruitful, and proactive business. Operation of the Khushhali Bank and branch office management. Application for both men and women to receive a branch administrative invitation. The sector of small credit banking with the largest operational area.
The Khushhali Bank encourages innovation in its workforce and offers equal chances to candidates. the Bank doesn't discriminate on the grounds of handicap, age, color, gender, marital status, race, or religion. Therefore, we welcome and encourage all suitable applicants to apply for our open jobs. The chosen candidates for the bank offer their skills and talents to go through the Taiwanese workshop, inviting, taking part in, learning from, and promoting talents to develop plans and encourage adaptability.
Achievements of the organic society, creative employees, mutual trust, acceptance of peace, good performance, cultural invitation. The Bank will continue to support high levels of encouragement and support with numerous possibilities for growth, learning, and development.
Jobs Vacancy
Management of Khushhali Bank Specially Invited Branch Manager In different Cities Of Pakistan Faisalabad, Gujranwala, Haripur, Lahore, Peshawar, Rawalpindi, Okara, Sahiwal, Sheikhupura, and Sialkot.
Jobs Important Data
Job Posted On          14 November 2022
Jobs Location            Pakistan
Organization             Khushhali Microfinance Bank Pakistan
Education                  Bachelor Masters
Category                   Bank Jobs
Job Type                    Full Time
Job Sector                 Private Sector
Last Date                   30 November 2022
Eligibility Criteria for Latest Khushhali Microfinance Bank Jobs
Applicants with HEC certification or foreign university degrees in industrial and commercial management, commerce, accounting, finance, agriculture, or economics.
Shortest 2 years of commercial banking business management or Operation Manager experience.
Skills Required For Jobs
Solid understanding of the financing rules.
Developing relationships across functional lines and teamwork.
Knowledge of each KMBL product's compliance and regulatory needs.
Strong customer focus and communication abilities.
High degree of mobility as a result of ongoing field activity.
Proficient with Microsoft Office.
Some Responsibilities Of Manager Jobs
Implement and oversee effective collection efforts to guarantee that consumers pay according to the conditions agreed upon, and keep the record accordingly.
To make sure that the data that is used successfully is monitored through efficient MIS of collecting.
Ensure strict adherence to the SBP's Fair Debt Collection Guidelines.
serves as the bank's point of contact for litigation involving bad debts at the branch level.
To arrange frequent team meetings so that unit plans and goals may be timely and effectively communicated, difficulties can be discussed, and successes can be acknowledged.
To make their team's knowledge and abilities in line with the demands of their jobs, effectively manage their team, identify skill gaps, and provide on-the-job training.
Official Advertisement Khushhali Microfinance Bank Jobs In Pakistan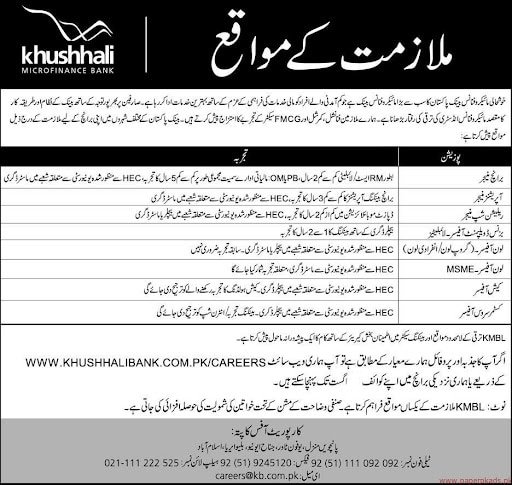 Thanks for visiting GMC. GMC is a website which provide daily admissions, scholarship, jobs and tech News.