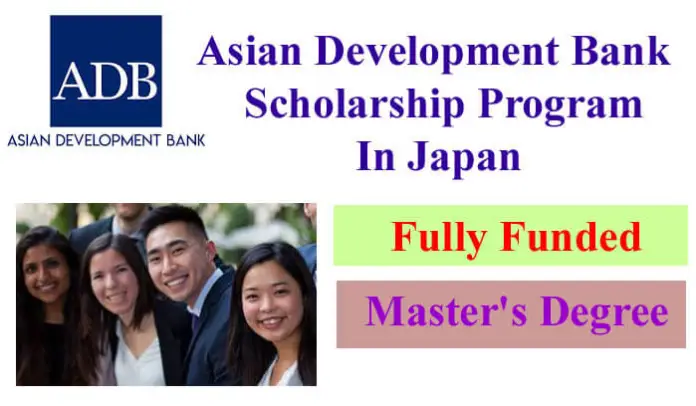 Asian Development Bank  Scholarship Program 2023 In Japan Fully Funded:
Asian Development Bank Scholarship Program 2023 In Japan is Open for all International applicants belonging to member countries of ADB who desire to get higher education abroad. Students are accepted from all over the globe for Fully Funded Scholarship who are willing to continue their Master's Degrees. All the Major Subjects  of environmental studies like Natural Environmental Studies, Human and Engineered Environmental Studies, and Socio-cultural Environmental Studies are available. No Application Fee Will Be Charged to Students.
The Asian Development Bank (ADB) is a leading development finance institution dedicated to reducing poverty and promoting sustainable economic growth in Asia and the Pacific. ADB offers a scholarship program for postgraduate studies in Japan to enhance the skills and knowledge of professionals from developing countries. This program is an excellent opportunity for aspiring leaders to receive world-class education and training in their chosen fields. In this article, we will provide you with detailed information on the Asian Development Bank Scholarship in Japan and how you can apply for it.
The scholarship program is Asian Development Bank Scholarship open to individuals from ADB's developing member countries. Applicants must have a bachelor's degree or its equivalent with a superior academic record. They must also have at least two years of full-time professional work experience relevant to their chosen field of study. English proficiency is also required, and applicants must submit their TOEFL or IELTS score.
The Asian Development Bank Scholarship in Japan supports postgraduate studies in the following fields: economics, management, science and technology, and other development-related fields. Applicants are encouraged to choose a field of study that is relevant to their current or future job responsibilities.
The scholarship covers full tuition fees, a monthly allowance for living expenses, housing, books and instructional materials, medical insurance, and travel expenses. Scholars may also participate in various activities, including internships, research projects, and study tours.
Asian Development Bank Scholarship The application process for the Asian Development Bank Scholarship in Japan is highly competitive, and applicants must follow specific guidelines and deadlines. The application deadline varies depending on the academic institution, so applicants must check the ADB website for updated information. The application process includes submitting the online application form, academic transcripts, and TOEFL or IELTS scores. Shortlisted candidates will be invited for an interview.
Read also.-Climate Change Master Scholarships 2023 In France For Pakistanis
Scholarship Support:
Students will be able to get the following benefits from Asian Development Bank Scholarship Program 2023 In Japan:
Full Tuition Fees
Cost of living
Airfare from Home country to Japan and Japan to Home country
Health and medical insurance
On request, Researchers may receive a grant for their thesis
List of Subjects offered by the Asian Development Bank Scholarship Program 2023 In Japan:
All the basic subjects of environmental studies offered by the Asian Development Bank Scholarship Program 2023 In Japan are given below:
China:
Master of Science in:
Urban Planning
Urban Design
India:
Master of Technology in Science and Technology
New Zealand:
Master in International Business
Master of Arts (Development Studies)
Master of Science (Environmental Science)
Master programs in Engineering
Master of Public Health
Pakistan:
Master in Business Administration
Philippines:
Master in Business Administration
Master in Development Management
Master of Agriculture
Master of Science
Singapore:
Master in Business Administration
Master in Public Policy
Master of Social Sciences (Applied Economics)
Master of Science in Environmental Management
Thailand:
Master of Sciences or Engineering in School of Engineering and Technology
School of Environment, Resources, and Development (SERD)
Interdisciplinary Courses among Schools
School of Management (SOM)
Master in Engineering
Master in Economics.
United States:
Business Administration
Economics
Geography
Business Administration (Global MBA-Japan Track)
Natural Resources & Environmental Management
Ocean and Resources Engineering
Oceanography
Pacific Island Studies
Public Administration
Sociology
Tropical Plant & Soil Science
Urban and Regional Planning
Master of Law
Japan:
Asian Public Policy Program
Master of Arts in International Relations
Master of Arts in International Development
Master of Arts in Economics
Master of Arts in Public Management
Master of Business Administration (MBA)
Master of E-Business Management
Master of Science in Engineering
Master of Arts in Economics
Master of Systems Engineering
Master of Systems Design and Management
Master of Economics
Master of International Studies
Master of Laws
Master of Political Science
International Project Management Course (M.B.A)
Master's Program in International Environmental Management Program
Special Course in Agricultural Sciences – For the Global Future of Life, Food and the Environment
International Course in Management of Civil Infrastructure and Earth Resources Engineering
International Course in Urban and Regional Development in the Department of Urban Management
Bioresources Sciences
Agro-Environmental Sciences
Agricultural and Resource Economics
Bioscience and Biotechnology
Global Governance and Corporations
Economic and Business Law in Asia
Innovation and the Law
Fundamental Perspectives on Economic and Business Law
Master of Science in Asia Pacific Studies
Master of Science in International Cooperation Policy
Mathematics
Physics
Chemistry
Earth and Planetary Sciences
Mechanical Engineering
Systems and Control Engineering
Electrical and Electronic Engineering
Information and Communications Engineering
Industrial Engineering and Economics
Materials Science and Engineering
Chemical Science and Engineering
Mathematical and Computing Science
Computer Science
Life Science and Technology
Architecture and Building Engineering
Civil and Environmental Engineering
Transdisciplinary Science and Engineering
Social and Human Sciences.
Application Requirements:
Candidate should:
Be a citizen of an ADB borrowing member country and a country eligible for a Japanese ODA scholarship.
Do not hold dual citizenship of any developed country;
Have obtained admission to an approved Master's course in a designated institution.
Bachelor's degree or equivalent with high academic record;
At least two (2) years of full-time professional work experience (acquired after a university degree) at the time of application. Candidate must have mastery of oral and written English communication skills to study;
Not over 35 years of age at the time of application, unless exempted in exceptional cases with express approval from the Government of Japan;
to be in good health;
Agree to return and work in your home country for at least two (2) years after completing your studies under the program to contribute to its development.
Executive Directors, Alternate Directors, Management, Staff and Consultants of ADB, or are not close relatives of the above by blood or adoption defined with the term "close relatives": spouse, mother, step-daughter mother, father, stepfather, sister, stepsister, brother, stepsister, son, daughter, aunt, uncle, niece, or nephew;
ADB-JSP should not be staff of designated institutions;
Do not live or work in a country other than your country of origin. And
Not already enrolled in graduate degree programs.
Necessary Documents:
All the documents required for applying online are given in detail below:
Degree Transcripts.
Academic certificates.
Completely fill out the Application Form.
Passport copy.
2 letters of reference.
CV
Application Last Date:
The last date to submit an application Online for the Asian Development Bank  Scholarship Program 2023 In Japan Fully Funded is April 2023
Guidelines on How to Submit Application for Asian Development Bank Scholarship Program 2023 In Japan Fully Funded:
There is an online application form available on the official website. Applicants must visit the official website with the link given below for complete information.
Thanks for visiting GMC. GMC is a website which provide daily admissions, scholarship, jobs and tech News.