The Bank of Khyber BOK Jobs is one of the leading financial institutions in Pakistan, offering a wide range of services to customers and businesses alike. The bank is known for its commitment to providing high-quality services, innovative products, and a supportive work environment for its employees. If you're looking for a challenging and rewarding career in the banking industry, the Bank of Khyber may be the right place for you.
Details of Bank of Khyber BOK Jobs 2023
| | |
| --- | --- |
| Posted On | 30-01-2023 |
| Location | Islamabad / Peshawar / Karachi / Kohat |
| Education | Master / Bachelor |
| Last Date | 12-02-2023 |
| No of Vacancies | 06 |
| Gender | Male / Female |
| Organization | Bank of Khyber |
| Address | HR Directorate Bank of Khyber BOK Peshawar |
Bank of Khyber BOK Jobs 2023
Read also:-Khyber Medical College Jobs 2023: Opportunities for Healthcare Professionals
BOK Job Opportunities: Available Positions and Requirements
The Bank of Khyber is always on the lookout for talented, motivated individuals to join its team. Currently, the bank is offering several job opportunities across its branches in Pakistan. Some of the available positions include:
Branch Manager
Customer Service Officer
Operations Officer
Credit Officer
Treasury Officer
To be considered for any of these positions, you will need to meet certain requirements, such as:
A bachelor's degree in business, finance, economics, or a related field
Strong leadership and interpersonal skills
Excellent verbal and written communication skills
Knowledge of banking regulations and practices
Proficiency in computer applications and systems
Additionally, you should have a proven track record of success in previous roles, and a passion for helping others. The bank values individuals who are team-oriented, proactive, and dedicated to their work.
The Benefits of Working at the Bank of Khyber
One of the biggest advantages of working at the Bank of Khyber is the opportunity to grow your career in the banking industry. The bank provides its employees with extensive training and support, so that they can acquire the necessary skills and knowledge to succeed in their roles. Additionally, the bank offers a competitive salary and benefits package, which includes:
Health insurance
Retirement benefits
Paid time off
Career development opportunities
Performance-based bonuses
Working at the Bank of Khyber also means that you'll have the opportunity to work in a supportive, inclusive environment. The bank values diversity and encourages its employees to bring their unique perspectives and ideas to the workplace. Whether you're just starting your career or you're an experienced professional, the Bank of Khyber is a great place to grow and develop your skills.
How to Apply for BOK Jobs 2023
If you're interested in pursuing a career at the Bank of Khyber, you can visit the bank's career website to view the available job opportunities and submit your application online. You'll need to provide your resume and cover letter, as well as answer a few questions about your experience and qualifications.
It's important to tailor your application to the specific position you're applying for, and to highlight the skills and experiences that make you a strong fit for the role. Make sure to review the requirements and responsibilities of the position carefully, and to communicate your enthusiasm for working at the Bank of Khyber.
Conclusion
The Bank of Khyber offers a range of exciting career opportunities for individuals who are looking to grow and develop their skills in the banking industry. Whether you're a recent graduate or an experienced professional, you can benefit from working in a supportive, inclusive environment, and from having access to comprehensive training and development programs. If you're ready to take the next step in your career, consider applying for one of the available positions at the Bank of Khyber today!
Bank of Khyber BOK Jobs 2023 Advertisement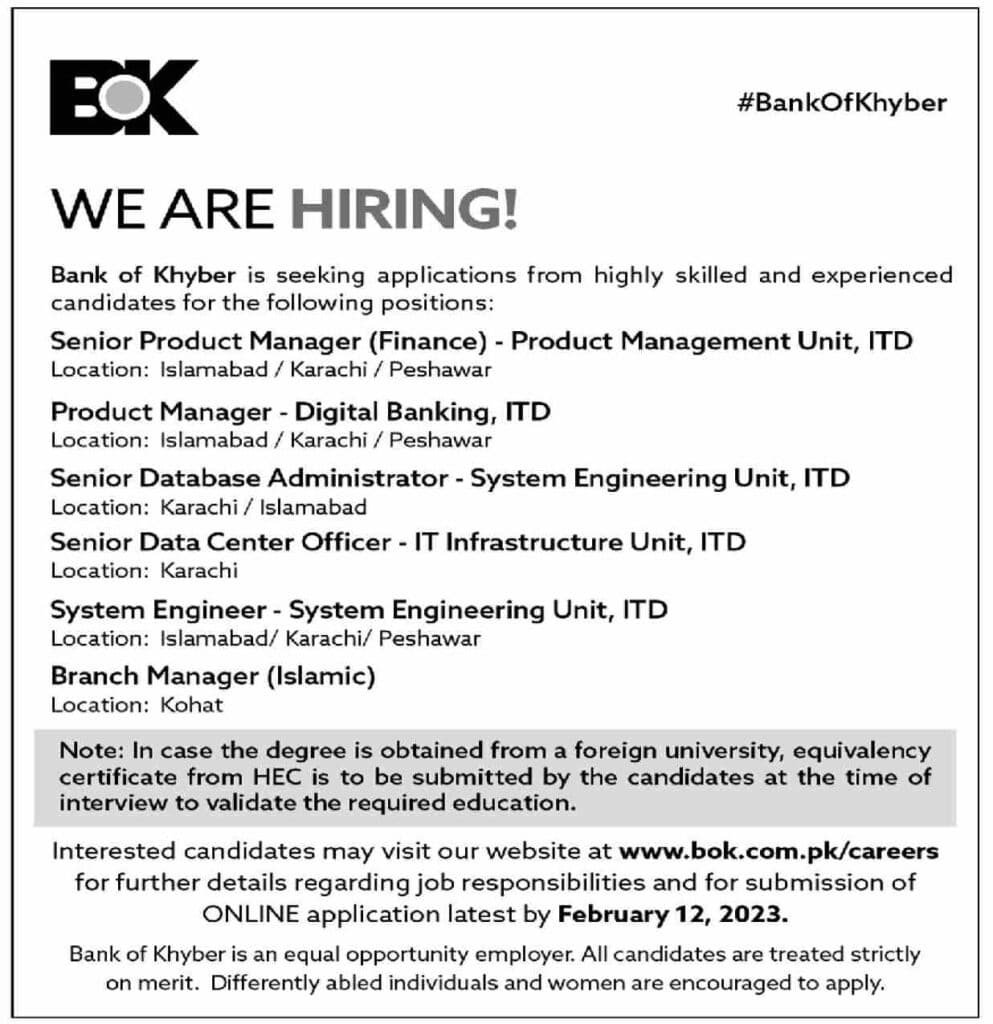 Thanks for visiting GMC. GMC is a web site which give day by day admissions, scholarship, jobs and tech News.CategoriesJobs