Introduction
Welcome to Cadet College Murree, a prestigious institution that has been shaping young minds and preparing them for a future filled with success and leadership. In this article, we will delve into the details of Cadet College Murree's admissions for the year 2023 and highlight the unparalleled opportunities it offers to students aspiring for a well-rounded education.
Overview of Cadet College Murree
At Cadet College Murree, we believe in providing an exceptional learning environment that nurtures the intellectual, physical, and moral development of our students. Founded with a vision to produce future leaders, our college has been a beacon of academic excellence since its inception.
Academics
Comprehensive Curriculum
Our college offers a comprehensive curriculum that combines academic rigor with practical learning experiences. We believe in equipping our students with the skills and knowledge necessary to excel in their chosen fields. Our expert faculty members, who are committed to providing quality education, ensure that students receive a holistic understanding of various subjects.
State-of-the-Art Facilities
Cadet College Murree boasts state-of-the-art facilities to facilitate a conducive learning environment. From well-equipped classrooms to modern science and computer labs, we ensure that students have access to the resources they need to enhance their learning experience. Our library is stocked with a vast collection of books, journals, and digital resources to promote a culture of research and exploration.
Focus on Co-curricular Activities
We firmly believe in the importance of a well-rounded education that goes beyond the confines of the classroom. Cadet College Murree encourages students to participate in a wide range of co-curricular activities, including sports, arts, and community service. These activities foster teamwork, leadership skills, and personal growth, ensuring that students develop into well-rounded individuals.
Admissions Process for 2023
Eligibility Criteria
To secure admission at Cadet College Murree, candidates must meet the following eligibility criteria:
Age: Applicants must be between 12 and 14 years old as of January 1, 2023.
Educational Qualifications: Candidates should have successfully completed their 7th or 8th-grade examinations.
Application Procedure
Online Application: Interested candidates can visit our official website and fill out the online application form. The form requires essential personal and academic details.
Submission of Required Documents: Along with the application form, applicants must submit copies of their academic transcripts, birth certificate, and recent passport-sized photographs.
Entrance Test: Shortlisted candidates will be invited to take an entrance test covering subjects like English, Mathematics, and General Knowledge.
Medical Examination: Selected candidates will undergo a thorough medical examination to ensure they meet the required health standards.
Interview: A personal interview will be conducted with the shortlisted candidates and their parents/guardians to assess their suitability for admission.
Scholarships and Financial Aid
At Cadet College Murree, we believe in providing equal opportunities to talented individuals, regardless of their financial background. We offer scholarships and financial aid to deserving candidates based on their academic performance and financial need. These scholarships aim to make high-quality education accessible to a wider range of students.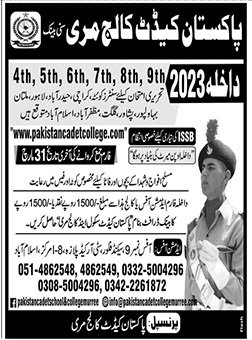 Why Choose Cadet College Murree?
Legacy of Success
Cadet College Murree has a rich legacy of producing accomplished individuals who have excelled in various fields. Our alumni have gone on to become distinguished military officers, successful entrepreneurs, renowned professionals, and influential leaders in society.
Character Development
In addition to academic excellence, Cadet College Murree places great emphasis on character development. We instill in our students a sense of discipline, integrity, and ethical values, molding them into responsible citizens who contribute positively to society.
Networking and Connections
By joining Cadet College Murree, students become part of a close-knit community that offers networking opportunities and lifelong connections. The relationships formed during their time at the college often prove invaluable in their future endeavors.
Conclusion
If you are seeking an institution that offers a transformative educational experience and sets the foundation for a successful future, Cadet College Murree is the ideal choice. With our commitment to academic excellence, state-of-the-art facilities, and focus on character development, we provide students with a comprehensive learning environment that prepares them to thrive in the competitive world. Join us at Cadet College Murree and embark on a journey towards excellence and leadership
Thanks for visiting GMC