Explore Exciting Teaching Chenab College Jhang Jobs, Shorkot, Ahmed Pur Sial, and 18-Hazari! Chenab Colleges Jhang is hiring for various teaching positions. Don't miss out on this chance to apply if you hold qualifications from Ph.D., MS, MPhil, or other Master's degrees. Published in the Daily Express Newspaper on September 19, 2023
Latest Chenab College Jhang Jobs 2023: Your Gateway to Exciting Career Opportunities
The recent advertisement by Chenab Colleges Jhang jobs, published in the Daily Express Newspaper around September 19, 2023, is extending an invitation to individuals interested in various teaching positions. These positions include Taleem ul Quran instructor, computer educator, physics lecturer, biology tutor, Qari (Quran recitation teacher), general subject specialist, art educator, botany instructor, general science mentor, Pakistan Studies teacher, chemistry expert, music instructor, mathematics educator, and zoology tutor. These openings are available in the regions of Jhang, Shorkot, and Jhang in the Punjab province of Pakistan. Applicants with qualifications ranging from Ph.D., MS, and MPhil, to other Master's degrees are encouraged to submit their applications.
The NTS Advantage
Chenab College Jhang's collaboration with the National Testing Service (NTS) for the recruitment process ensures that candidates are chosen based on a thorough and fair assessment. NTS is a trusted name in the field of testing and assessment, known for its commitment to fairness and transparency. Candidates can be confident that their abilities and qualifications will be evaluated objectively, providing an equal opportunity for all applicants.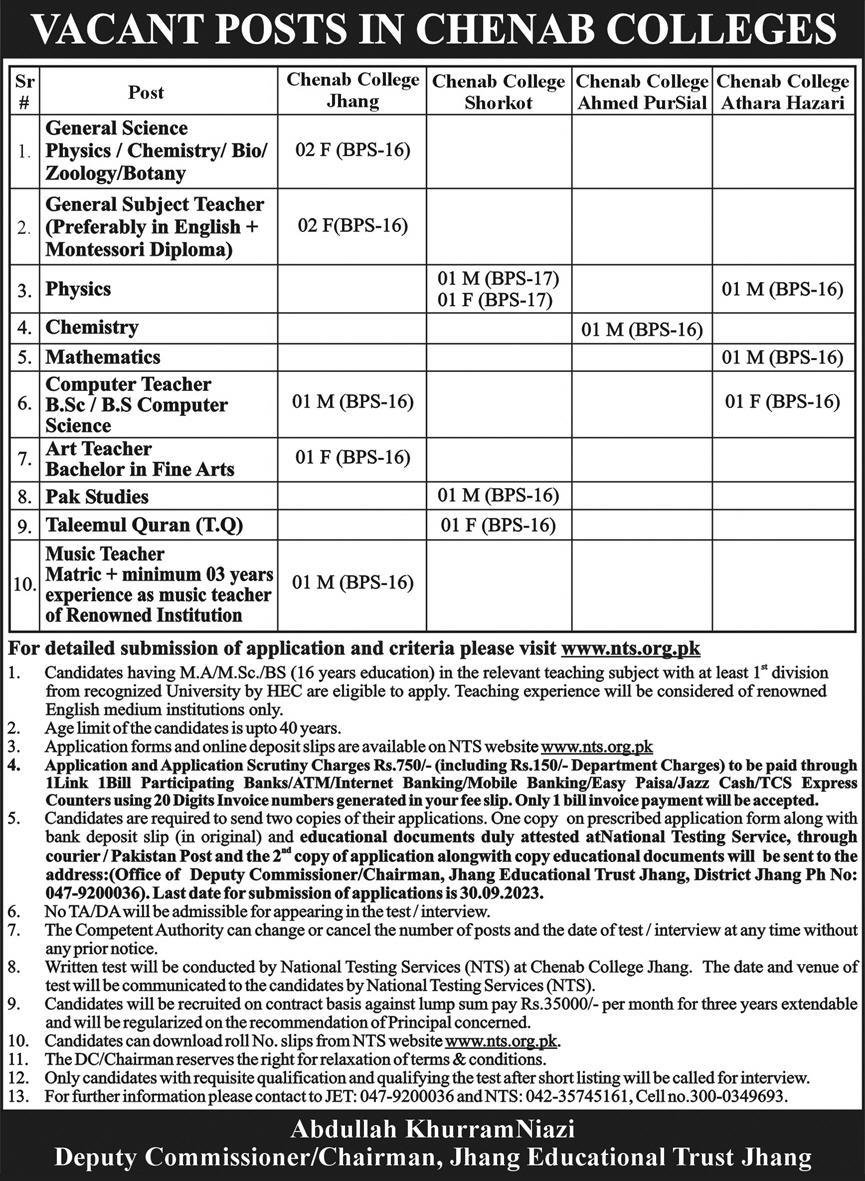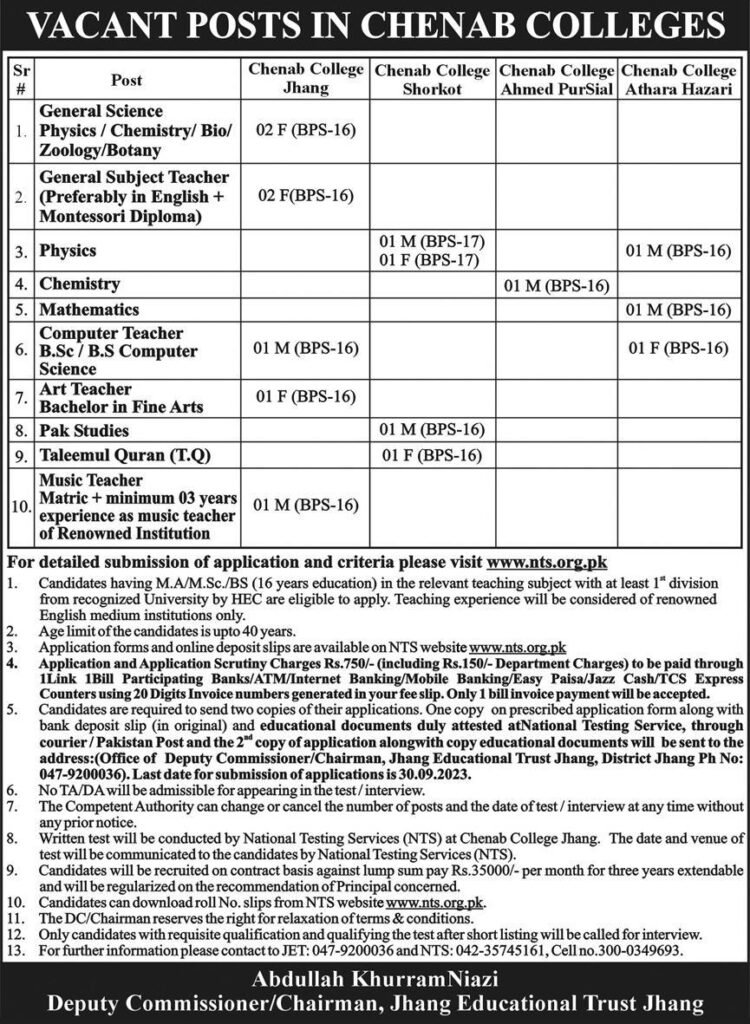 How to Apply for Chenab College Jhang Jobs
To apply for the exciting job opportunities at Chenab College Jhang Jobs, follow these steps:
Visit the NTS Website: Go to the official NTS official website to find detailed information about the job openings.
Select the Desired Position: Browse through the available positions and select the one that aligns with your qualifications and career goals.
Complete the Application: Fill out the online application form provided on the NTS website. Make sure to provide accurate and up-to-date information.
Prepare for the Test: NTS will conduct a fair and comprehensive test to assess your skills and knowledge. Be sure to prepare thoroughly to showcase your abilities.
Attend the Interview: Shortlisted candidates will be invited for an interview. Be confident, professional, and prepared to discuss your qualifications and experience.
Join Chenab College Jhang: Once you successfully pass all stages of the recruitment process, you'll have the opportunity to become a valuable member of the Chenab College Jhang family.
Conclusion
Chenab College Jhang's recruitment drive through NTS is a golden opportunity for job seekers who are passionate about education and eager to contribute to a dynamic and forward-thinking educational institution. By partnering with NTS, Chenab College Jhang ensures that the selection process is fair and unbiased, giving every candidate an equal chance to shine. Don't miss this chance to embark on a fulfilling career journey with a college that values excellence, innovation, and growth. Apply today and take the first step towards making a positive impact on the lives of students while advancing your own career aspirations. Your future at Chenab College Jhang awaits!
Apply for more Jobs in Jhang for People with Disabilities by ABL in 2023: ABL Empowering the PWDs
Your Time Here Inspires Us! Thank You for Visiting Our Blog