Introduction
Welcome to our comprehensive guide on applying for FAST University Lahore admissions in 2023. At GMC , we understand the importance of providing valuable information to aspiring students, and we are committed to helping you navigate the application process successfully. In this guide, we will walk you through the step-by-step procedure of applying for FAST-NUCES admissions, ensuring you have all the necessary information at your fingertips.
Why Choose FAST-NUCES?
Before we delve into the application process, let's highlight why FAST-NUCES is an excellent choice for higher education.
Reputation: FAST University Lahore is a prestigious institution known for its exceptional academic standards and cutting-edge research programs.
Faculty: The university boasts a team of highly qualified and experienced faculty members who are experts in their respective fields.
Industry Linkages: FAST University Lahore maintains strong ties with industry leaders, providing students with ample opportunities for internships, placements, and real-world exposure.
State-of-the-Art Facilities: The campus is equipped with modern facilities, including well-equipped laboratories, libraries, sports complexes, and comfortable accommodation options.
Application Process for FAST-NUCES Admissions 2023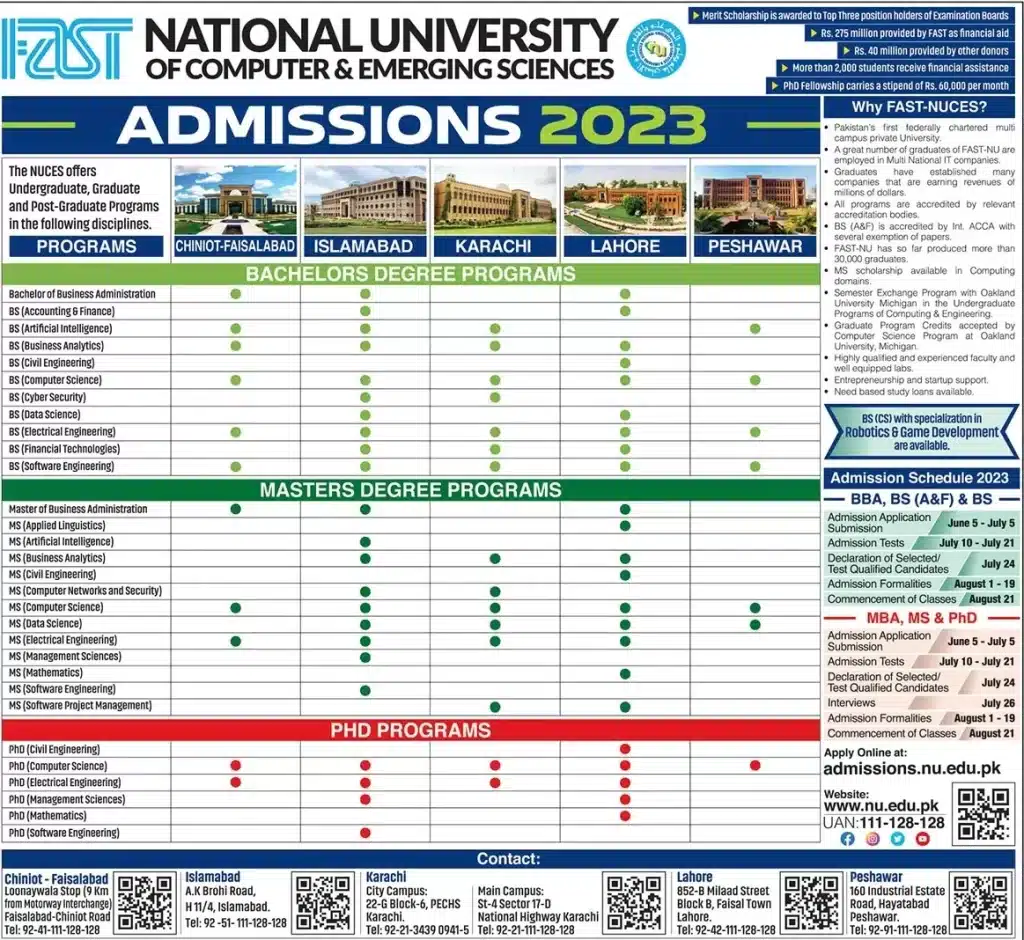 To ensure a successful application, follow the steps outlined below:
Step 1: Visit the Official FAST-NUCES Website
Begin your application process by visiting the official FAST-NUCES website at www.nu.edu.pk. Familiarize yourself with the layout and structure of the website, as it will serve as your primary source of information throughout the application process.
Step 2: Explore Degree Programs
FAST University Lahore offers a wide range of undergraduate and postgraduate programs across various disciplines. Take your time to explore the different programs available, considering your interests, career aspirations, and eligibility criteria. Remember to choose a program that aligns with your goals and academic strengths.
Step 3: Understand Admission Requirements
Once you have selected your desired program, carefully review the admission requirements specified by FAST-NUCES. These requirements may include academic qualifications, entrance tests, interviews, and other criteria. It is crucial to have a clear understanding of what is expected from applicants to ensure you meet the necessary criteria.
Step 4: Prepare Application Documents
Gather all the necessary documents required for your application. These documents may include:
Academic transcripts
Certificates/degrees
National identity card or passport
Recent passport-sized photographs
Any additional documents specific to your chosen program
Ensure that all documents are up to date and readily available when you begin the application process.
Step 5: Online Application
FAST University Lahore offers an online application portal for the convenience of applicants. Follow these steps to complete your online application:
Create an account on the official FAST-NUCES website.
Log in to your account and navigate to the application portal.
Fill in the required personal information, academic details, and program preferences.
Upload scanned copies of the required documents in the specified format.
Pay the application fee online, as mentioned on the website.
Step 6: Entrance Test
Depending on your chosen program, you may be required to appear for an entrance test. FAST-NUCES conducts its own admission test, which assesses applicants' aptitude and subject knowledge. Prepare for the entrance test by referring to the recommended study material and practicing sample questions.
Step 7: Interview (if applicable)
In some cases, applicants may be called for an interview as part of the selection process. Prepare for the interview by researching commonly asked questions and practicing your responses. Present yourself confidently and showcase your passion for the chosen program.
Step 8: Application Review and Admission Offer
After completing the application process, FAST-NUCES will review your application, considering various factors such as academic performance, entrance test scores, and interview performance (if applicable). If your application is successful, you will receive an admission offer from the university.
Step 9: Acceptance and Enrollment
Once you receive the admission offer, carefully read the instructions provided by FAST University Lahore. Follow the guidelines to accept the offer within the given timeframe. Pay any required admission fees and complete the enrollment process to secure your place at the university.
Important Dates
It is essential to keep track of the admission timeline to ensure you don't miss any deadlines. Please refer to the FAST-NUCES website for the most up-to-date information on important dates, including the last date for submitting applications and any other relevant deadlines.
Conclusion
Congratulations! By following this comprehensive guide, you are now well-equipped to apply for FAST-NUCES admissions in 2023. Remember, thorough preparation and attention to detail are key to a successful application. We wish you the best of luck in your academic journey at FAST-NUCES!