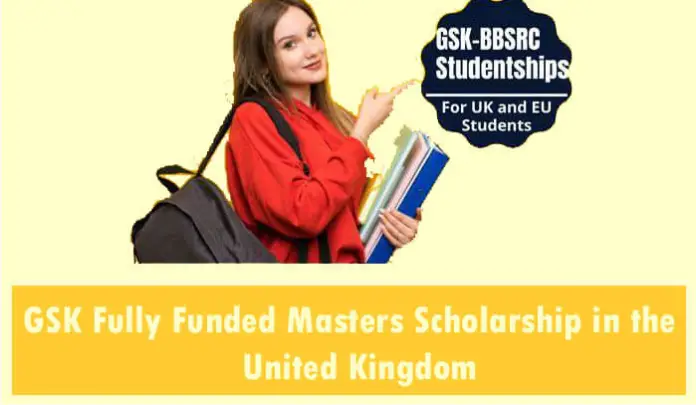 GSK Fully Funded Masters Scholarship 2023 in the United Kingdom:
The GSK Fully Funded Masters Scholarship 2023 in the United Kingdom is Open for all International applicants who want Pursue higher education abroad. Applications are accepted from all around the world for Fully Funded Scholarship in the UK who want to continue their Master's Degree. All the Major Subjects and Specializations like Social Sciences, Arts, Aeronautical, Astronautical Engineering, Biosciences, Operations Research, Architecture, and Business as well as management and Development subjects are available.
The London School of Hygiene and Tropical Medicine administers the scholarship. The university is considered a global leader in post-graduate education and research. The scholarship aims to advance academic knowledge in the health sciences while honing practical skills that may be applied to the dynamics of health in the modern world. By keeping them competitive in the job, these abilities will help health professionals succeed. The fully-funded scholarship program favors candidates who show a desire to do their share to advance public health for the good of all. Studying the significant issues essential to society's well-being, enables individuals to create original thoughts, research experiences, and fresh viewpoints.
The London School of Hygiene & Tropical Medicine is famous for its public and global health research, postgraduate studies, and ongoing education. It is one of the top research institutes in the UK with an annual research income of more than £180 million. The School is well-positioned to assist in influencing health policy and turning research findings into noticeable effects because of its global presence and collaborative spirit.
Read also.-Queen Elizabeth Masters Scholarship 2023
Complete Overview of GSK Fully Funded Masters Scholarship
Offered Degrees: Masters Program
Scholarship Award: Fully Funded
Host University: London School of Hygiene and Tropical Medicine
Host Country: UK
Application Last Date: 1st March 2023
Scholarship Support:
The living allowance, which is a tax-free stipend, will be GBP 19,500.00.
Full Tuition fee
Any required field trips will be paid for.
Knowledge pertaining to health will be improved.
Application Requirements:
The applicant must reside in or be a citizen of Sub-Saharan Africa.
Candidates must be determined to stay in their region after the program is completed.
They must fill out the Supplementary Questions form and state that they are unable to pay for the program due to financial constraints.
Candidates must satisfy the minimal requirements for English language proficiency.
Must possess a first degree of first- or second-class standing.
Must have an acceptance offer.
Eager to contribute to the improvement of the African health system.
Necessary Documents:
All the Documents mentioned below need to upload for the GSK Fully Funded Masters Scholarship 2023 in the United Kingdom:
High School Certificate is equal to 12 years of education.
Bachelors transcript
Passport for International Students.
Short Resume/CV.
The motivational letter or Statement of purpose.
Research Proposal for Master
Recommendation Letters.
Health Certificate.
Proof of Language Proficiency
Good TOEFL or IELTS Score
Acceptance Letter (Optional)
Or any other supporting documents
Application Last Date:
The application last date to apply Online for the GSK Fully Funded Masters Scholarship 2023 in the United Kingdom is the 01st March 2023.
Guidelines on How to Submit Application for the GSK Fully Funded Masters Scholarship 2023 in the United Kingdom:
There are two steps in the application procedure. Candidates must satisfy all requirements for eligibility and finish both phases by the scholarship deadline of March 1, 2023, in order to be eligible for the funding.
Follow the guidelines under the link on the appropriate program of study page to submit an application for a London-based MSc program for the academic year 2023–2024.
Apply for scholarships online by selecting the "2023–24 GSK Scholarship for Future Health Leaders" option from the drop-down menu. This application must be submitted with a completed Supplemental Questions Form for this scholarship. As applicants should have already supplied references, transcripts, a CV, and other materials with their application for study, this is the sole attachment needed.
Thanks for visiting GMC. GMC is a website which provide daily admissions, scholarship, jobs and tech News.