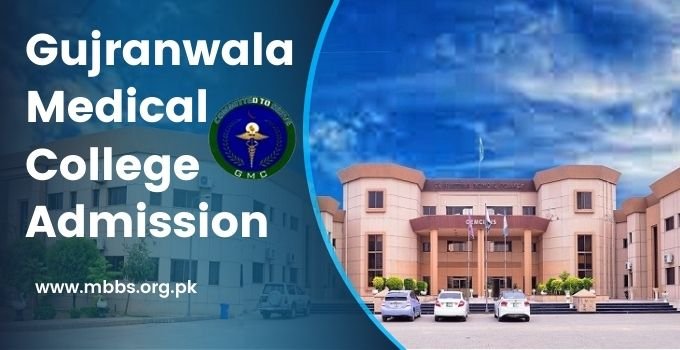 The Gujranwala Medical College is a public medical college located in the district of Gujranwala. In Pakistan, there weren't enough doctors at the time, this college was required. In affiliation with PMC, Gujranwala Medical College adheres to the motto Committed to Serve.
Thousands of students are studying in sixteen departments in Gujranwala Medical College. Students at Gujranwala Medical College learn the latest advances in teaching methods.
The institute aims to produce new generations of well-trained and humane doctors, as well as to create a positive contribution to medicine in Punjab through education, research, and service.
They are also constantly updating and changing standards and quality to meet the needs of medicine. In addition to academics, they provide students the opportunity to showcase their talents in sports and other activities as well.
Gujranwala Medical College Admissions 2022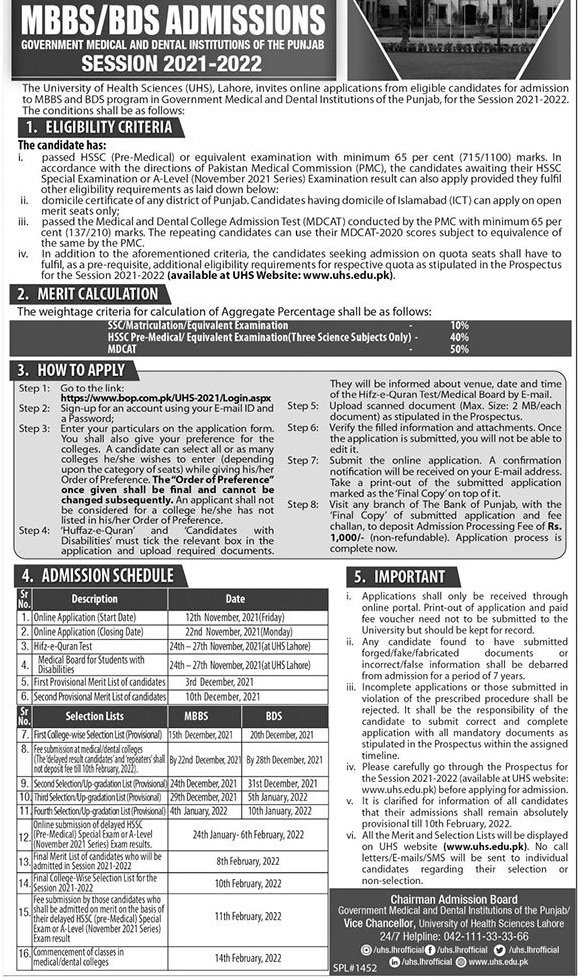 To get admission to GMC, we have provided all the essential information regarding admissions rules, policies, and structure. Make sure you read everything and secure your seat at GMC today.
Eligibility Criteria
The candidate must have achieved a minimum of 65% in FSC Pre-Medical.
Domicile holders of any district of Punjab may apply. (Domicile holders of Islamabad may also apply.)
Candidates must have passed the National MDCAT-2021 with a score of at least 60%.
Foreign/overseas Pakistani seats are available to candidates with HSSC or equivalent 12th Grade degree.
For foreign candidates who have taken SAT-II, they must have scored at least 60%, with Biology 40 percent, Chemistry 35 percent, and Physics/Maths 25 percent.
How to Apply for GMC Admission 2022
The GMU Admissions website is the only place to submit your application. To submit your application successfully, simply follow the steps below.
Visit the GMU Admissions website.
Sign in to your account after creating one.
Complete your profile, contact information, and qualifications.
Submit your challan by downloading the form.
MCB branches accept challans for payment.
The fee will be automatically verified within 48 hours.
You now need to wait for the merit list.
Required Documents
It is not enough to apply for admission to Gujranwala Medical College in 2021. We have already described the exact information you need to complete the access form. Which documents could you need?
The following is an overview of the documents you need. It doesn't matter if you are applying to Gujranwala Medical College or any other institute, these documents will be a starting point for your application. Your documents will definitely be verified after you have been accepted into MBBS.
Matric Certificate (Marks Sheet)
Intermediate Certificate (Marks Sheet)
Character Certificate (If Required)
Domicile Certificate
CNIC or B-Form
Entrance Test Result Card
Fresh Pictures
Read Also
Merit Formula for Admission
Below mentioned are the calculations according to UHS's formulas.
Matriculation: 10%
FSC Pre-Medical/Equivalent: 40%
MDCAT: 50%
Teaching Hospital
The District Headquarter Hospital Gujranwala is affiliated with GMC as a teaching hospital offering services in all major specialties, such as medical, orthopedics, pediatrics, ophthalmology, gynecology, urology, ENT, neurosurgery, cardiology, etc. With the formation of the GMC, the hospital expanded to 472 beds and became a teaching hospital.
Department and Faculties
There are three main faculties at GMC, which run many departments. These departments offer a variety of degree programs. The college's faculties include
Basic Science:
Anatomy
Biochemistry
Forensic Medicine
Pathology
Pharmacology
Physiology
Medicine and Allied:
Cardiology
Chest Medicine
Dermatology
Pediatrics Med
Physical Rehabilitation
Psychiatry
Radiology
Radiotherapy
Preventive Pediatrics
Urology
Surgical and Allied:
Anesthesiology
Cardiac Surgery
Neurosurgery
Obs. And Gynecology
Eye
Oral & Maxillofacial
Orthopedics
ENT
Pediatric Surgery
Plastic Surgery
Thoracic Surgery
Programs
The following programs are offered by GMC:
DPT
MBBS
MCPS and FCPS
MPhil and PhD
MSc in Medical Nutrition and Diabetics
GMC Facilities
Hostel in Gujranwala Medical College GMC
A total of 11 hostels are available at Gujranwala Medical College, where 6 hostels serve male students and 5 hostels serve female students. The hostel is located near , so students don't have to pay for transportation on a daily basis.
There is already enough male student housing, but in response to the increase in female students, a female hostel is under construction. It is planned to build a female hostel soon since females do not face difficulties.
The administration at Punjab University is providing better student service facilities. A hostel is administered by an administrator who sets the rules and conditions for the hostel.
Girls Hostel
Gujranwala Hostel GMC in Punjab is a hostel for girls. Gujranwala's Girls Hostel GMC is close to Cafe and is located northwest of the city.
Boys Hostel
Hostel GMC Boys is located in Gujranwala, Punjab. GMC Boys Hostel Gujranwala is located northwest of Gujranwala.
Services
Common Room
Dining Area
Washrooms and Toilets
Visitors Room
Telephones Wi-Fi / Internet
Laundry Kitchen / Kitchenette
Other Facilities of GMC
In GMC you will find the following facilities.
Computer Lab
Sports
Cafeteria
Library
Auditorium
Gym
Laboratory
Medical
Classroom
Security
FAQ's
Is Gujranwala Medical College government or private?
The Gujranwala Medical College is a public located in the district of Gujranwala.
How many marks are required for admission in MBBS?
As per the results of the 2021 NEET UG examination, the minimum required mark for the General category is 138 (50 percentile). In contrast, general-PH candidates need 122 marks (45 percentile) and SC/OBC/ST candidates need 108 (40 percentile).
How can I get free seats in MBBS?
Contact : +92-55-6705801-9
Website: www.gmc.com.pk
Email: [email protected]
Address: Gondlanwala Village, Ali pur Chitta Road,Gujranwala Pakistan.
Final Words
Our article about Gujranwala Medical College Admission2022 is sure to be of interest to you. Our goal is to provide you with detailed, complete information about the GMC admission for 2022.
Still, if you face any difficulty regarding anything about Gujranwala Medical College Admission, feel free to ask us in the comment section. Our MBBS team is always looking forward to solving your queries as soon as possible. Besides this, give you valuable feedback in the comments and share the article with your friends and family members.
Thanks for visiting GMC. GMC is a website which provide daily admissions, scholarship, jobs and tech News. and results