Applications are invited to apply for the Hokkaido University Presidents Fellowship 2023-24 in Japan. All International Students from all over the world having diplomatic relations with Japan are eligible to apply for Presidents Scholarship at Hokkaido University 2023. Students from all over the world can Study Their Master's Degree and PhD Degree from the Japan. There is No Need of IELTS/TOFEL to apply for Scholarships at Hokkaido University. Also apply for How does the Paraphrasing Tool Improve Academic Writing?.
Almost all academic fields and majors are available at Hokkaido University to pursue Postgraduate Degree Programs. Knowledge of Japanese Language or IELTS/TOEFL is not mandatory for this scholarship. You can submit an English Proficiency Certificate from your university. The scholarship will cover all the expenses.
Hokkaido University was established in 1876 and is national institution located in Hokkaido, Japan. This is the most prestigious university having QS ranking 122nd in the world. Japan is the hub of education. This is the golden opportunity for all students from around the world. You may also apply for How to Apply for Scholarships in Canada for International Students.
Hokkaido University Presidents Fellowship 2023-24 Details:
University: Hokkaido University, Japan
Degree level: Master's, PhD
Scholarship coverage: Fully Funded
Eligible nationality: International
Award country: Japan
Last Date: 6 January 2023.
Financial Benefits:
Hokkaido University Presidents Fellowship 2023-34 in Japan for Students from around the world to get their postgraduate degree will cover all the expenses to study from abroad. Detail is given below:
Round about 2,300,000 yen will be given in the 1st year and 1,800,000 yen for the 2nd year which will cover the following:
Application Fees
Enrollment Fees
Complete Tuition Fees
Monthly Stipend
Extra 70,000 yen will be given to Research Students
Students can avail On-Camus housing during the scholarship duration.
Scholarships Duration:
Master's Degree: 2 years
Professional Degree (Accounting and Public Policy): 2 years
Professional Degree (Law): 3 years
PhD Degree: 3 years
PhD Degree in Medicine, Dentistry, Veterinary Medicine, Infectious Diseases, or Clinical Pharmacy: 4 years
Documents Required:
A completed Application for Hokkaido University President's Fellowship (Download Form). Before going to submit your application, please contact with your prospective supervisor and consult with them about the topic and plan of your research.
Get a Consent letter from your prospective supervisor.
Academic Transcripts. To apply for PhD degree, both Bachelors and Masters Degree Transcripts must be submitted.
A Recommendation Latter from a supervisor at your university (no set form).
Your university's president have to provide Official Candidacy Letter to the President of Hokkaido University.
Eligibility Criteria for Scholarship in Japan:
Applicants have to meet the given below criteria while applying for Hokkaido University Presidents Fellowship in Japan:
Current Students or alumni students of universities that have concluded Inter University Exchange Agreements and a Memorandum of Understanding on Student Exchange with Hokkaido University can eligible to apply.

Applicants who are already students of Hokkaido University are not eligible to apply for this fellowship.

Students must be self-supporting, not availing any other fellowships or scholarships when enrolling in Hokkaido University.
Students who are in the top 25% in the class of Home University are recommended to apply and students have provide proof signed by President of that university.
Application Deadline:
The last date to apply for Hokkaido University Fellowship 2023-24 in Japan for International Students is 6th January 2023.
How to apply for Hokkaido University Presidents Fellowship?
In order to apply for Hokkaido University Presidents Fellowship 2023 in Japan, applicants need to follow the given below steps:
Students have to submit the above mentioned documents to their university.
Every affiliated University can select only ONE student, and send required documents to Hokkaido University before the deadline is over.

Directly sent applications by the applicants will not be accepted.
Submitted documents will not be returned.
In case of any change on the applicant's status, please inform Hokkaido University through the affiliated University as soon as possible.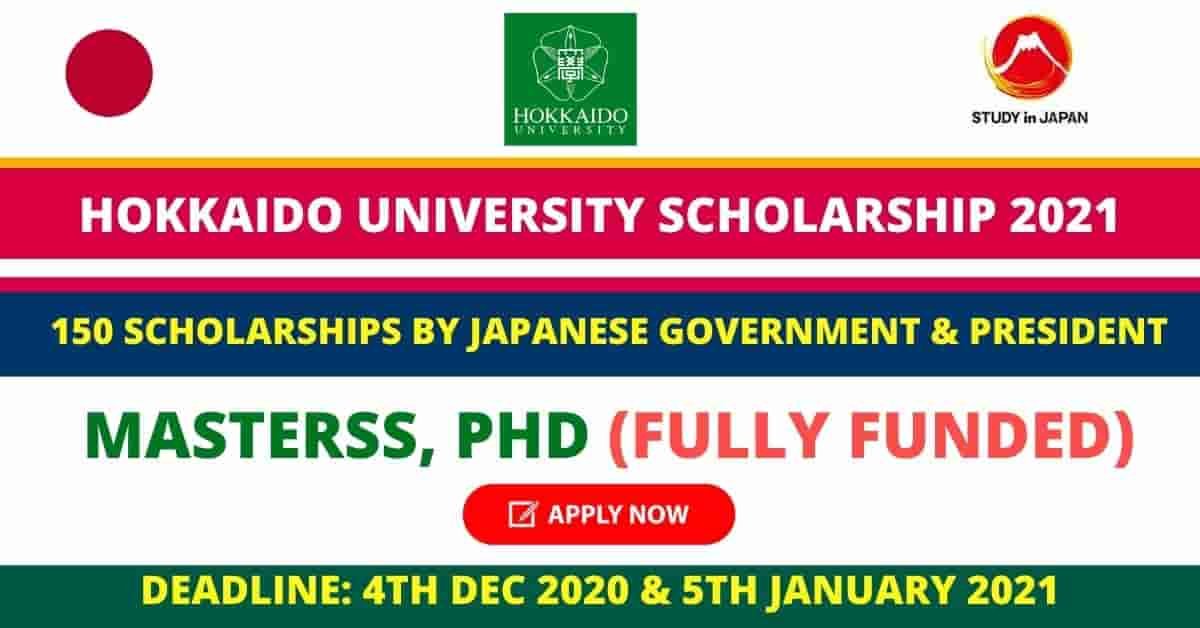 Thanks for visiting GMC. GMC is a website which provide daily admissions, scholarship, jobs and tech News.