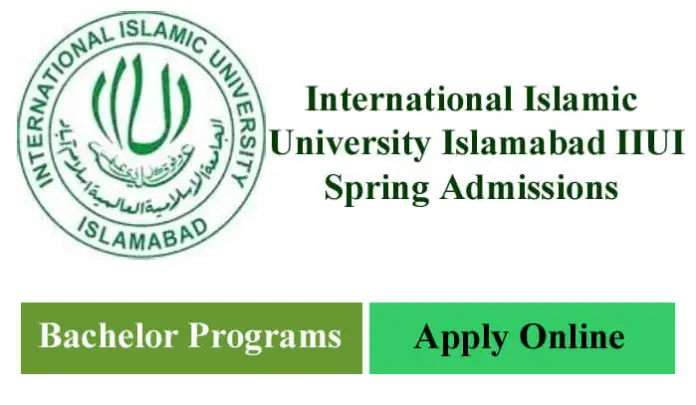 International Islamic University Islamabad IIUI 2023 Spring Admissions:
The International Islamic University Islamabad IIUI 2023 Spring Admissions is Open for all applicants who want to Pursue higher education. Applications are accepted from Students who want to continue bachelor's degrees admissions at the International Islamic University Islamabad. This university opens admissions session 2023 on the advice of HEC.
In Islamabad, Pakistan, there is a public research institution known as the International Islamic University, Islamabad, or IIUI. It was founded in 1980, underwent a restructuring in 1985, and is still an important resource for Pakistani higher education. In Pakistan's top university rankings published by Times Higher Education's World University Rankings for 2022, the university is ranked joint second. The Higher Education Commission of Pakistan consistently puts it among the top universities in the nation under the general category.
International Islamic University Islamabad IIUI has made admissions announcements for a variety of BS programs for the spring of 2023. Admissions are currently open for a number of BS programs at the Islamabad (IIUI) for the spring of 2023. International Islamic University Islamabad (IIUI) is a public based in Islamabad. IIUI, Islamabad has openings for BS admissions for the spring of 2023. This is a great chance for individuals who want to apply for spring admission for the 2023 semester
Complete Overview of International Islamic University Islamabad IIUI 2023 Spring Admissions:
Offered Degrees: BS & MS program
University Name: International Islamic University
Sector: Government
Location: Islamabad
Apply Mood: Online
Application Last Date: 16th December 2022
List of Subjects/Academic Fields offered by the International Islamic University Islamabad IIUI:
BS Arabic
BS Translation and Interpretation
BS Biotechnology
BS Biology
BS Environmental Sciences
BS Mathematics
BS Statistics
BS Physics
BS Education
BS Educational Leadership and Management
BS English Language Teaching
Ed Elementary Education
BS Economics
BS Economics and Finance
BS Islamic Banking and Finance
BS Persian
BS Urdu
BS English
Bachelor of Business Administration (BBA) 4 Years
BBA 2 Years
BS Public Administration
BS Accounting and Finance
BS Commerce
BS Project Management
BS Business Analytics
BS Anthropology
BS Pakistan Studies
BS Islamic Art and Architecture
BS Media and Communication
BS Political Science
BS Psychology
BS History
BS International Relations (BS IR)
BS Sociology
BS Usuluddin (BS Islamic Studies)
MBA
Application Requirements:
Each of the following requirements must be satisfied in order to be admitted:
12 years or more of formal education in the relevant fields are required for bachelor's degree programs.
In order to apply based on their FSc Part-I/AS Level exams, candidates who are awaiting the results of their HSSC Part-II/A-Level exams should present a Hope Certificate. There will be a temporary admissions determination.
For individuals who have completed an FSc or equivalent with any mix of math, physics, and computer studies, only a BS in Computer Engineering and Computer Science is available.
Admission is solely determined by merit.
Necessary Documents:
All the documents listed below need to upload when applying online for spring admissions.
CNIC/B-Form
CNIC of Father/Guardian
BS, BS5th, MPhil, and Ph.D. program Transcripts
Matric Degree or Result Card
Certificates of FSc/ICS
Format not more than 50KBsize scanned Passport size photo in JPEG
Application Last Date:
The last date for International Islamic University Islamabad IIUI 2023 Spring Admissions is 16th December 2022.
Guidelines on How to Submit Application for International Islamic University Islamabad IIUI 2023 Spring Admissions:
Visit the official website of IIUI admissions.
Register and set up an account.
Log in and complete the application form.
Upload your DMC and transcripts from your SSC and HSSC for BS candidates, your HSSC and BA/BSc for MA/MSc candidates, your BS/MA/MSc for MS candidates, and, for Ph.D. candidates exclusively, your MS along with a two-page research plan.
Submitting an online application. Please be aware that after an application has been submitted, it cannot be revised.
Print a bank challan for the admission processing fee, pay at the selected bank, and fill out the application with the necessary information.
For updates, keep checking your profile and the IIUI website.
Thanks for visiting GMC. GMC is a website which provide daily admissions, scholarship, jobs and tech News.