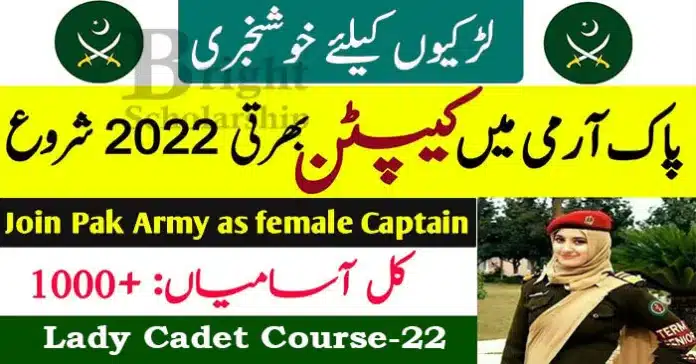 Join Pakistan Army as Lady Cadet November 2022 Online Apply:
Applications are invited to apply for Join Pakistan Army as Lady Cadet November 2022 Online Apply. Applicants from all over the Pakistan can Apply Online for Join Pak Army as Captain through Lady Cadet Jobs 2022. All the applicants having degree of Bachelors can Join Pak Army as a Lady Cadet 2022. Pakistan Army GHQ Rawalpindi Jobs are currently open for all candidates who are Pakistan citizens. In these Latest Pak Army Jobs Female candidates from across the country can apply through the procedure defined by the organization.
Join Pakistan Army as Lady Cadet November 2022 Details:
Provided by: Pak Army
Age: Less than 28 Years
Education: Bachelors
Address: PO BOX 914 GPO Rawalpindi
Job country: Pakistan
Last Date: 18 December 2022.
List of Available Vacancies in Pak Army and Education:
Corps of Services (ASC)

MS/ MSc (Contracting,Procurement and/or Fin Mgmt)
MS/ MSc (Supply Chain Management)

Corps of Engineers (Engrs)

BE/ MS in GIS&RS
BE/ MS in Environmental Engg
BE/ MS in Civil Engg

Corps of Signals (Sigs)

BE Electrical Telecom (BESE)
BE Software Engg (BESE)
BE Informatics Security (BEIS)

Corps of Electrical & Mechanical Engineers (EME)

BE in Electronic Engg
BE in Mechatronics Engg

Signals – Information Technology (Sigs-IT) – BS/ BE in the following disciplines:-

System Engineering
Computer Science
Informatics / Cyber Security
Software Engineering
Computer Engineering

Corps of Ordnance (Ord)

BS/ BE/ MSc (Electrical Engg)

Inter Services Public Relations (ISPR) – MA/ MSc/ BS or equivalent education in the following disciplines:-

Media Studies/ Journalism
IR/ Peace and Conflict Studies & Strategic Studies
Eligibility Criteria:
Minimum CGPA 2.5 out of 4 or Min 62.5% Marks in annual system.
M.Phil/ MS will be given preference.
No 3rd Division or Grade D and only one 2nd Division/ Grade C throughout the academic career.
Candidates only graduated from HEC/ PEC recognized universities.
Candidates once rejected from Pakistan Military Academy/ Equivalent courses or once rejected in Post Graduate entry can avail once more chance for Post Graduate courses only.
Candidates acquired qualification as private student is not eligible.
Ineligibility Criteria:
Twice screened out Inter Service Selection Board (ISSB).
Permanently declared UNFIT by Appeal Medical Board.
Declared medically unfit due to Hepatitis B & C (Appeal Medical Board cannot be requested).
Declared unfit by any Armed Forces Hospital except those cleared by Appeal Medical Board.
Withdrawn from any Academy/ Training Institution of Armed Forces on any ground.
Withdrawn from any bonded Armed Forces college/ institution on disciplinary grounds.
Dismissed/ removal/ debarred from Government Services including Armed Forces.
Convicted in a Court of Law for an offence involving moral turpitude.
Application Deadline:
The last date to apply for Join Pakistan Army as Lady Cadet November 2022 Online Apply is 18th December 2022.
How to Apply Online Join Pakistan Army as Lady Cadet November 2022?
Applicants have to apply online at https://www.joinpakarmy.gov.pk/ for Join Pakistan Army as Lady Cadet November 2022. Visit the given below link and click on "Join Now" button to start application. Fill the application form completely and submit it.
Thanks for visiting GMC. GMC is a website which provide daily admissions, scholarship, jobs and tech News. and results