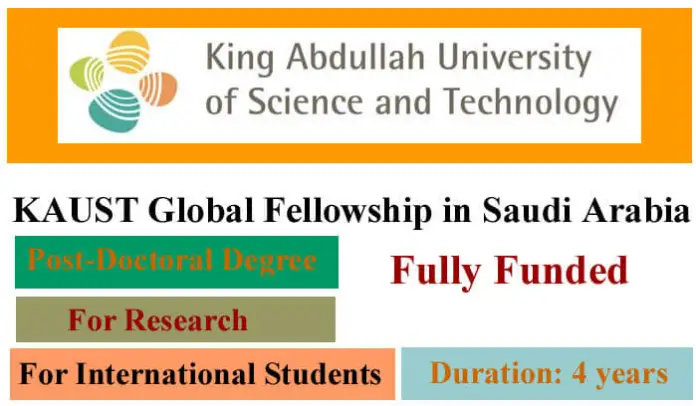 Fellowship 2023 in Saudi Arabia Fully Funded
KAUST Global Fellowship 2023 in Saudi Arabia is Open to all International applicants who want to Pursue their abroad. Applications are accepted worldwide for Fully Funded scholarships who wish to continue their Doctoral or Post Doctoral degree. The research work must be based on critical global challenges related to the five pillars. No Application Fee Will Be Charged to Applicant.
The Government of Saudi Arabia provides many Scholarships for International Students annually. This Scholarship is also one of the best scholarships for a Postdoctoral degree. This scholarship is for international candidates only.
. It provides research and graduates training programs in English as the official language of instruction. King Abdullah University is the first mixed-gender university in Saudi Arabia. The university was among the 500 fastest-growing research records in the world in the year 2013. King Abdullah University of Science and Technology  is an international standard University that provides a Quality research environment to its students. So, Never miss this chance to research with a full Scholarship at KAUST.
Complete Overview of KAUST Global Fellowship 2023 in Saudi Arabia:
Offered Degrees: Doctoral & PostDoctoral
Scholarship Award: Fully Funded
University Name:  King Abdullah University of Science & Technology
Host Country: Saudi Arabia
Scholarship Support:
All the Expenses of selected candidates are provided by the government of Saudi Arabia during Study. International Students get the following benefits from this fellowship:
Aspirants will be given a 75K USD annual stipend.
Aspirants will be provided with an independent annual research project budgeted around $45,000.
Application Requirements:
The research project must be on the topic of critical global challenges related to the five pillars.
Aspirants must meet the requirements of the Kingdom of Saudi Arabia to get a residential facility there.
Necessary Documents:
KAUST Host Pi Letter.
3 Research Proposals.
Two Publications.
2 Reference Letters.
Curriculum Vitae (CV).
Valid Passport.
Application Last Date:
The application last date to apply Online for KAUST Global Fellowship 2023 in Saudi Arabia is 15th January 2023.
Guidelines on How to Submit Application for KAUST Global Fellowship 2023 in Saudi Arabia:
All applicants can apply while registering themselves through an email account.
The applicants will receive an email notification confirming their registration.
Provide all required personal information of the candidate, e.g., name, address, country, religion, etc.
Provide academic qualification details like the name of degree, institute, main course, specialization, date completed, etc.
Provide the details of your recent position like job title, starting and ending date, organization, name of employer, etc.
Provide details of the two best publications like article title, publication type, publication title, and date.
Provide the name of one KAUST faculty member and the other preferences required.
Provide details of two referees with name, position, organization, and email address.
Complete all the required fields necessary for registration.
Complete your registration request and submit it.
Thanks for visiting GMC. GMC is a website which provide daily admissions, scholarship, jobs and tech News. and results