As a premier institution in Pakistan, the National School of Public Policy NSPP Jobs is dedicated to providing top-tier education and training for public servants. For individuals looking for challenging and rewarding career opportunities, NSPP is the perfect place to start. In this article, we will provide you with everything you need to know about NSPP Jobs 2023 and how you can secure a position in one of the most respected organizations in the country.
Details of NSPP Jobs 2023
| | |
| --- | --- |
| Posted On | 14-02-2023 |
| Location | Lahore |
| Education | P.h.D / MS / MPhil / Master / Bachelor |
| Last Date | 10-03-2023 |
| No of Vacancies | 11 |
| Gender | Male |
| Organization | National School of Public Policy |
| Address | Deputy Director ( HR) National School of Public Policy C/O National Management College Shahrah-e- Quaid -e- Azam Mall Road Lahore |
Read also:-Latest National School of Public Policy Govt of Pakistan Jobs 2023
NSPP Overview
The National School of Public Policy (NSPP) is a prestigious educational institution that specializes in the training and development of public servants. Established in 2005, NSPP is located in Lahore and is committed to providing exceptional education and training opportunities to individuals looking to work in the public sector. The organization is focused on providing high-quality research, policy analysis, and advice to policymakers in order to promote good governance, economic growth, and social development in Pakistan.
NSPP Jobs 2023
If you're interested in working for NSPP, there are a variety of job opportunities available for the upcoming year. The organization is looking for individuals with a passion for public service, a dedication to professional development, and a commitment to excellence. Some of the key positions that will be available include:
Director General
Director
Faculty
Research Officer
IT Officer
Librarian
HR Officer
Accountant
Admin Officer
Each of these positions offers a unique set of challenges and rewards. Whether you're a seasoned professional or just starting out in your career, NSPP has opportunities that will help you grow and thrive in the public sector. In addition to competitive salaries, NSPP also offers a comprehensive benefits package that includes health insurance, retirement plans, and more.
Qualifications and Requirements
To be considered for a job at NSPP, there are a few key qualifications and requirements that you must meet. These include:
Education: Applicants should have a master's degree in a relevant field from a recognized university.
Experience: Depending on the position, applicants should have anywhere from 3 to 15 years of relevant work experience.
Age: Applicants should be between the ages of 30 and 55.
Nationality: Applicants must be Pakistani nationals.
Skills: Applicants should possess strong analytical, communication, and interpersonal skills.
Application Process
To apply for NSPP Jobs 2023, interested candidates should visit the official website of NSPP and submit their application online. Applicants will need to provide their personal information, educational background, work experience, and other relevant details. Once applications have been received, they will be reviewed by the NSPP recruitment team, and qualified candidates will be contacted for an interview.
Conclusion
NSPP Jobs 2023 offer exciting opportunities for individuals looking to work in the public sector. With a wide range of positions available, NSPP is an excellent choice for those who are passionate about public service and want to make a positive impact on their community. If you meet the qualifications and requirements, we encourage you to apply for a job at NSPP and take the first step towards a fulfilling and rewarding career in the public sector.
NSPP Jobs 2023 Advertisement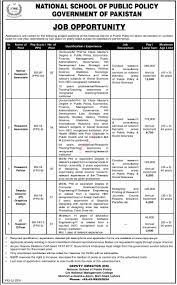 Thanks for looking into GMC GMC is a web website which supply daily admissions, scholarship, work along with modern technology News.