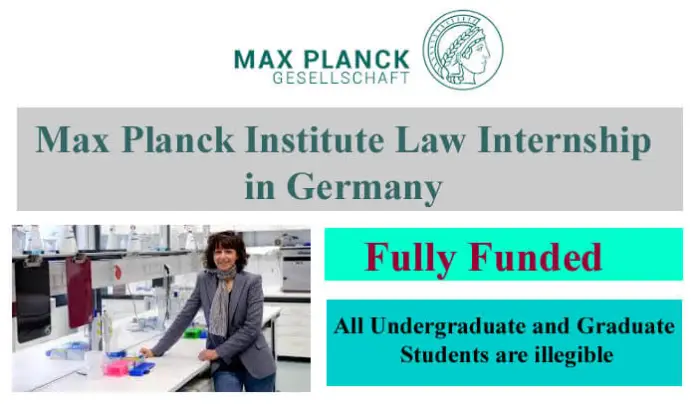 Law Internship 2023 in Germany:
The Max Planck Institute Law Internship 2023 in Germany  is open to All International Applicants who want to enhance their knowledge and polish their skills. Undergraduates and Graduate students may apply for the new Fully Funded Internship Opportunities. To start your career, the Max Plank Institute of Law is a great place. The Internship is open to students from all over the world. International students will apply for Max Planks Institute of law internships all over the world. Any student above the age of 18 is eligible to apply for this internship. If you are currently enrolled in an undergraduate or graduate degree, you are eligible to apply. There is No Application Fee Charged by Max Planks Institute. This is a paid internship program, with applicants receiving a monthly stipend.
Complete Overview of Max Planck Institute Law Internship 2023 in Germany :
Name of Organization: Max Planck Institute for Comparative Public Law and International Law
Course Dues: Fully Funded
Available For: Undergraduate/Graduate
Study Mode: Physical
Eligibility: Any
Financial Support:
The financial benefits of the Max Planck Institute Law Internship 2023 for Young Graduates are as follows:
A stipend of up to Euro 300 per month.
Opportunity to research according to international law, public law, and EU laws.
opportunity to assist in contributions to the meetings of the institution.
Getting the opportunity to write legal summaries with respect to cases and texts.
Chance to be a part of international workshops and conferences.
Application Requirements:
For applying for Internship 2023 in Germany:
Applicant must be enrolled in a graduate and undergraduate program.
Applicants must be among the high achievers in their degree program.
Applicants must exhibit skills in research and drafting.
Applicant must be proficient in English writing and verbal skills.
Other EU languages and especially German will be an edge.
Documents Required:
The following documents are required for Internship 2023 in Germany:
CV
Cover letter, highlighting applicants' motivation.
Copy of Applicant's high school diploma.
Academic transcripts
Application Last Date:
The last date to submit an application for the internship is 1st December 2022.
Guidelines on How to Submit Application for Internship 2023 in Germany:
Applicants have to go to the official website. Fill up the required formalities. Provide all the supporting documentation. Fill out the application form carefully and submit it in English through email. Visit the official website by using the link below:
Thanks for visiting GMC. GMC is a website which provide daily admissions, scholarship, jobs and tech News. and results