Punjab Education Department Jobs 2022 School Education Department Punjab has announced various vacancies for a project. The Govt. of Punjab has received financing from the Global Partnership for Education (GPE) in the form of a grant towards the cost of Transformation in Access, Learning, Equity, and Education Management (TALEEM), PMIU-PESRP is the secretariat (implementing /executing agency).
School Education Punjab just announced employment openings for Government Class IV jobs in Punjab. Interested applicants seeking these careers can apply for these vacancies (Punjab Govt Class IV Jobs Announced at School Education Department). Punjab Govt Education Department Class IV Jobs 2022 (6200+ Vacancies)
Interested Male/Female applicants looking for Teachers Jobs in Punjab/Educators Jobs can apply for this recruitment. Transgender people are also eligible to apply.
Teachers shall be appointed on a part-time/time-bound/honorary/contract basis for one year (extendable on satisfactory performances).
The last date to apply is 12 December 2022.
Details of Punjab Education Department Jobs IT Professionals
The following vacancies are announced.
Head IT Operations
Manager Development
Sr. Software Engineer, Web Developer (PHP)
QA Engineer (Officer)
Data Analyst
Education Requirement: At least 16 years of Education in Computer Science, Information Technology (IT), or a related field.
How to Apply
The TORs of the above positions can be downloaded from https://pesrp.edu.pk/procurement all the relevant documents i.e. copies of degrees and experience certificates invariably be attached with the EOI Under this program.
Punjab School Education IT Jobs 2022 Advertisement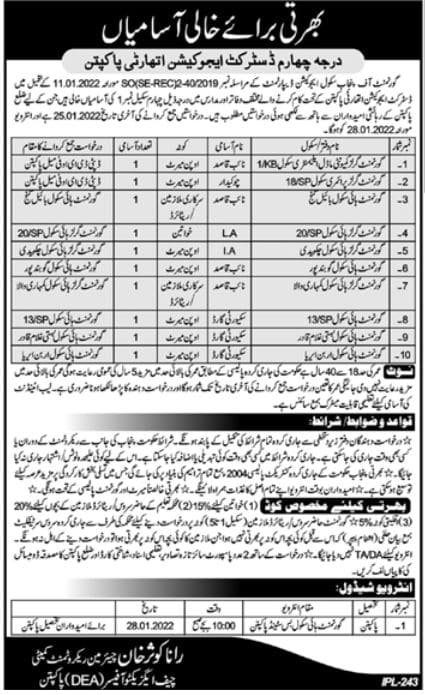 Thanks for visiting GMC. GMC is a website which provide daily admissions, scholarship, jobs and tech News.