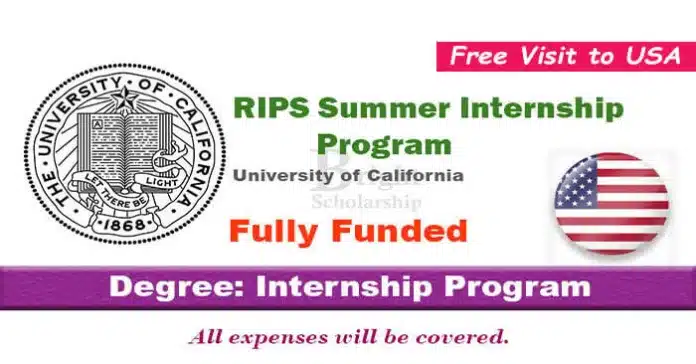 RIPS Summer Internship Program 2023-24 for International Students:
Applications are invited to apply for the RIPS Summer Internship Program 2023-24 in United States. All International Students are eligible to apply for the Research in Industrial Projects for Students (RIPS). Undergraduates Students studying math, computer science, and related fields can apply for Fully Funded Internship Program. USA Internship Program is taking place in the University of California, Los Angeles from 20 Jun to 18 Aug 2023 (9 weeks).
Here is the good chance for students around the world to take part in research project and get experience.
IPS Summer Internship Program 2023-24 Details:
University: University of California
Duration: 18 Jun to 20 Aug 2023
Internship award: Fully Funded
Eligible nationality: International
Award country: United States
Last Date: 13 February 2023.
Financial Benefits:
The RIPS Summer Internship Program is nine weeks. IPAM provides each undergraduate student with following benefits.
Stipend of $4,000
Travel allowance
Housing at UCLA campus
Meals
Site-visit with sponsors
Limited partial support for future travel to select conferences
Visa sponsorship for selected international students
Eligibility Criteria:
Applicants with an academic background in mathematics, data analysis, computer science, data and computing, statistics, numerical computation and technology are eligible to apply for this fully funded paid internship RIPS 2023-24 in America.
Documents Required:
Following documents are required to apply for this paid internship.
Academic transcripts
Reference letters
Curriculum Vitae (CV)
Application Deadline:
The last date to apply for The Research in Industrial Projects for Students 2023-24 is 13th February 2023.
How to Apply for RIPS Summer Internship Program?
There is an Online Application System to apply for USA RIPS Summer Internship Program.
Visit "Apply Now" link and login with your details.
After login, fill out the Standard Coversheet. Make sure to enter your two reference writers, but do not check the "email notify writer on submit" box.
Click on "submit" and you will be redirected to the RIPS application form.
Fill out the RIPS application form. For the "US VISA Status" question, select your country of citizenship. Also, make sure to check the box of the program(s) you would like to be considered for (Los Angeles, Singapore, or both). International students are only eligible for RIPS-LA.
Make sure to submit/upload all the required documents: your resume/CV, transcripts (can be unofficial), and select two reference writers for this program. Make sure to check the boxes next to your reference writers' names and click on the green arrow to send them an email request for a tailored reference letter (the system will email them the reference letter requests). Your reference writers won't receive any letter requests unless you click on the green arrow and the status next to their names changes to "email sent."
Once you complete the application form and upload the required documents, click on "Apply." Your submission is successful only if you see the "Thank you for submitting your application" screen right after submitting the form that states your application is complete and all required items have been submitted.
You can check your Status page to see any status updates, and to see if your application is complete or to update it
Thanks for visiting GMC. GMC is a website which provide daily admissions, scholarship, jobs and tech News.