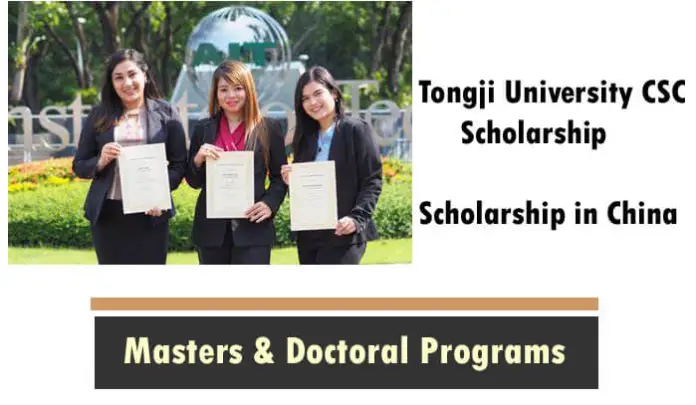 Tongji University CSC Scholarship 2023 | Scholarship in China:
The Tongji University CSC Scholarship 2023 | Scholarship in China is Open for all International applicants who want Pursue higher education abroad. Applications are accepted from all over the world for Fully Funded Scholarship who want to continue their Master's Degrees or Ph.D. Degrees. All the Major Subjects and Specializations like Social Sciences, Arts, Engineering, Economics, Architecture, Urban Planning, Media, Civil Engineering, Computer, Business as well as management and Development subjects are available.
Each year, the Chinese government provides numerous scholarships and internships for foreign students. One of the top scholarships is the 2023 CSC Scholarship at Tongji University. Numerous scholarships are available from Tongji University to students from all around the world. Depending on the degree you are enrolled in at Tongji University, you will either be taught Chinese or English as the language of instruction. In China, IELTS is not necessary for this scholarship. The Chinese Ministry of Education established the Chinese University Program, a full scholarship program, to assist Chinese universities in specific provinces or autonomous regions in recruiting outstanding foreign students for graduate studies in China.
Complete Overview of Tongji University CSC Scholarship 2023 | Scholarship in China:
Offered Degrees: Master & Ph.D. Programs
Scholarship Award: Fully Funded
University Name: Tongji University
Host Country: China
Application Last Date: 15th February 2023
Scholarship Support:
The Tongji University of China covers the following:
Full tuition fee
Comprehensive Medical Insurance
Accommodation Fee
Registration Fee
Monthly stipend for Master students (3000 RMB)
Monthly stipend for doctoral Students (3500RMB).
List of Subjects/Academic Fields offered by Tongji University in China:
College of Economics and Management
College of Architecture and Urban Planning
College of Design and Innovation
College of Arts and Media
College of Civil Engineering
College of Surveying and Geo-Informatics
School of Transportation Engineering
School of Mechanical Engineering
School of Automotive Studies
Institute of Railway and Urban Mass Transit
College of Environmental Science and Engineering
Institute of Environment for Sustainable Development
College of Material Science and Engineering
College of Electronics and Information Engineering
College of Software Engineering
School of Aerospace Engineering and Applied Mechanics
College of Ocean and Earth Science
School of Foreign Languages
Law School
School of Political Science& International Relations
School of Humanities
School of Medicine
School of Stomatology
School of Life Science and Technology
Sino-German College of Applied Science
Sino-German College
Application Requirements:
Entrants must be of non-Chinese nationality and physically fit.
A student must be an international student studying outside of China or a graduate of a Chinese university to be eligible to apply for this award.
Outstanding academic accomplishment.
Applicants for a Master's degree must be under 35 years old, while candidates for a doctorate must be under 40 years old. Candidates should have a good background in scientific research.
Experienced in Research for Master and Ph.D.
Necessary Documents:
All the Documents mentioned below need to upload during the online application for the Tongji University scholarship:
For Master Degrees, Transcript of Bachelors.
For a Ph.D. degree, a Transcript of the Master's is Required.
Passport for International Students.
Short Resume/CV.
The motivational letter or Statement of purpose.
Research Proposal for Master and Ph.D. only.
Recommendation Letters.
Health Certificate.
Proof of Language Proficiency
Photocopy of Foreigner Physical Examination Form
Acceptance Letter (Optional)
Or any other supporting documents
Agency Number:
The agency number of Tongji University is "10247". Type B
Application Last Date:
The application last date to apply Online for the Tongji University CSC Scholarship 2023 | Scholarship in China is 15th February 2023 For International Citizens. Must visit the link: HEC Stipendium Hungaricum Scholarship 2023-24 in Hungary Fully Funded
Guidelines on How to Submit Application for Tongji University CSC Scholarship 2023 | Scholarship in China:
The entire application process is conducted online. By following the directions above carefully and getting the papers ready to upload, students can apply online. You can apply for this scholarship online by following the link provided below, or you can read the official announcement.
Important Information: No Acceptance Letter is Required and a 600 RMB Application Fee
Application form provided by the Chinese Scholarship Council (CSC).
The 600 RMB application fee must be paid.
Just apply online. (Hard copies don't need to be sent.)
Thanks for visiting GMC. GMC is a website which provide daily admissions, scholarship, jobs and tech News.