Introduction of University of Punjab
The University of Punjab, one of Pakistan's oldest and most esteemed institutions, has officially declared the commencement of admissions. This venerable university boasts a wide array of language and linguistics programs, catering to both undergraduate and graduate students. With a rich history and a reputation for academic excellence, the University of Punjab continues to be a top choice for students seeking quality education in Pakistan. Prospective students are encouraged to explore the diverse academic opportunities offered by this esteemed institution as they embark on their educational journey in the upcoming academic year.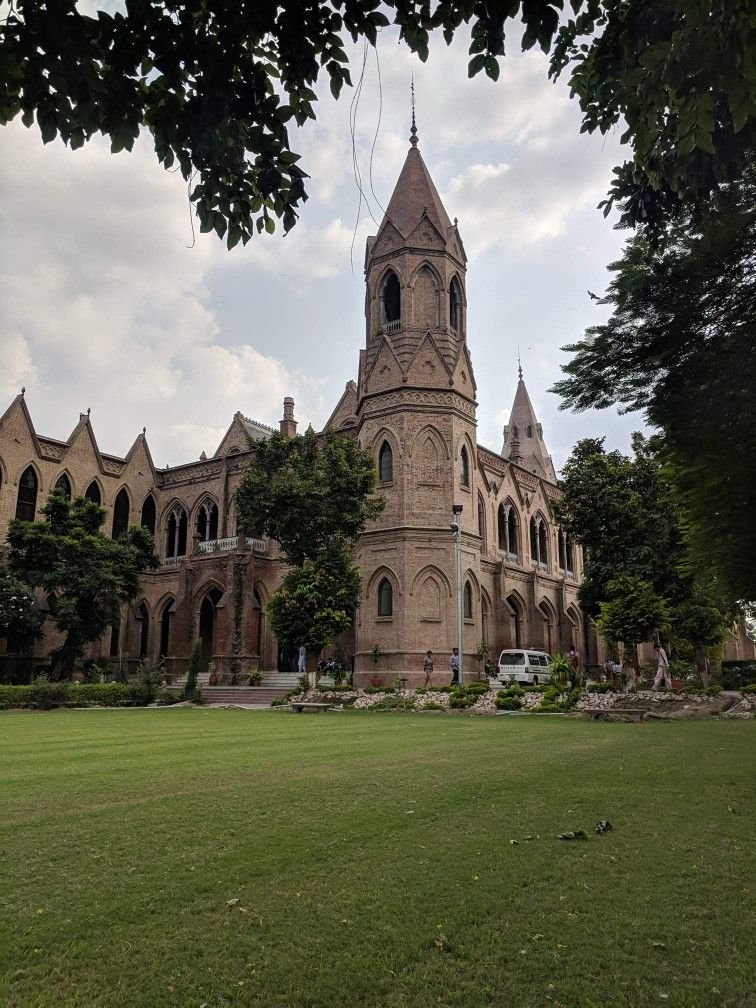 Discover Perfect Program with University of Punjab
Discover the perfect program at the Institute of Languages & Linguistics, University of Punjab. This esteemed institution, nestled within one of Pakistan's most prestigious universities, offers a comprehensive range of language and linguistics programs designed to meet your academic aspirations. Whether you're an aspiring linguist or looking to enhance your language skills, the Institute has something for everyone. From undergraduate degrees that provide a solid foundation to advanced graduate programs delving deep into linguistic intricacies, you'll find a curriculum tailored to your interests. The Institute's unwavering commitment to academic excellence and a nurturing learning environment make it the ideal destination for those passionate about languages and linguistics. Explore your options and embark on a rewarding educational journey with us.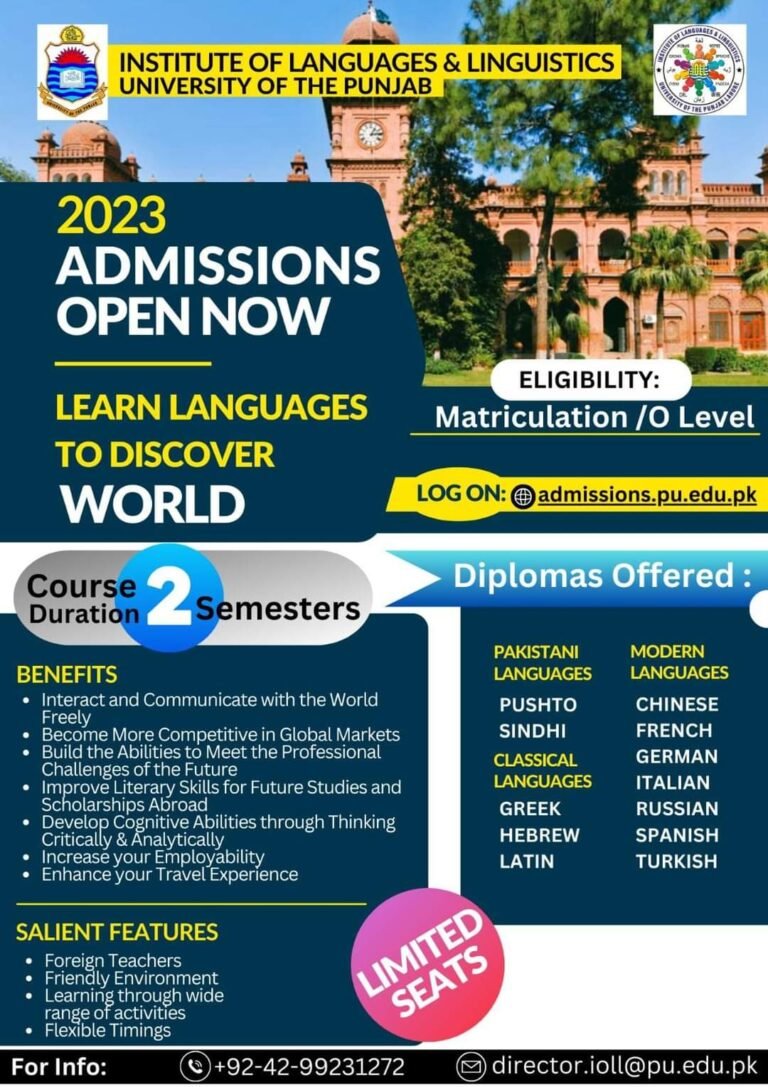 Diplomas Offered by IOLL,University of Punjab
Diplomas offered by Institute of Languages & Linguistics, University of Punjab are:
Pakistani Languages
Pushto
Sindhi
Classical Languages
Greek
Hebrew
Latin
Modern Languages
Chinese
French
German
Italian
Russian
Turkish
Eligibility Criiteria
Admission eligibility for diploma programs at the Institute of Languages & Linguistics (IOLL), University of the Punjab, varies by program. Nevertheless, there are overarching admission criteria applicable to all diploma programs:
Candidates should have successfully completed Intermediate (FA/FSc) or an equivalent examination with a minimum of a second division.
Proficiency in the English language is a prerequisite for all applicants.
Benefits Of Courses
Language Proficiency:
These programs offer comprehensive language instruction, empowering students to become proficient speakers, readers, and writers in their chosen language.
Cultural Understanding:
Learning a new language often involves gaining insights into the associated culture, history, and traditions, fostering cultural awareness.
Career Opportunities:
Multilingual individuals are highly sought after in various industries, enhancing their employability and career prospects.
Global Communication:
Proficiency in these languages facilitates global communication and collaboration, whether for business, research, or personal connections.
Travel and Exploration:
Knowledge of these languages enhances travel experiences by enabling students to interact with locals and navigate foreign environments more effectively.
Enhanced Cognitive Skills:
Language learning improves cognitive abilities like problem-solving, multitasking, and memory retention.
Diversity of Choices:
A wide range of language options ensures that students can select a program aligned with their personal interests and career goals.
Academic Advancement:
These courses complement other academic pursuits and research, offering valuable linguistic skills for various fields.
Networking:
Learning a new language opens doors to networking opportunities with speakers of that language, both locally and internationally.
Personal Growth:
Language acquisition fosters personal growth, self-confidence, and adaptability, enhancing overall life skills.
Facts and Features
The IOLL stands as one of Pakistan's leading institutions for language and linguistics education, offering diverse programs at the undergraduate, postgraduate, and doctoral levels. With a dedicated team of highly qualified faculty members from Pakistan and abroad, the IOLL boasts state-of-the-art facilities, including language laboratories, computer labs, and a well-stocked library. Furthermore, it maintains a robust alumni network with graduates excelling in various fields worldwide.
How to Apply
To apply for a diploma program at the Institute of Languages & Linguistics (IOLL) at the University of the Punjab in 2023, follow these steps:
Visit the IOLL website and review the specific admission requirements for your desired diploma program. Admissions .pu.edu.pk
Download and accurately complete the admission form.
Attach all necessary supporting documents, including academic transcripts, certificates, and passport-size photographs.
Submit the completed admission form and supporting documents either in person or by mail to the IOLL office.
Please note that the admission deadline varies for each diploma program, so refer to the website for program-specific dates.
Here are additional details about the diploma programs available at the IOLL:
Diploma in Linguistics: This program provides a foundational understanding of linguistics, covering phonetics, phonology, morphology, syntax, semantics, and pragmatics.
Diploma in Latin: Designed to teach the fundamentals of Latin, this program covers topics such as Latin grammar, vocabulary, and translation.
Post Graduate Diploma in English Language Teaching (ELT): This program prepares students for a career in teaching English as a foreign language, encompassing English language teaching methodology, materials development, and assessment.
Joim IOLL
If you're considering enrolling at the IOLL, please visit the institute's website for comprehensive information about the admission procedure and prerequisites.
Here are some tips for prospective IOLL students:
Early Planning: Initiate your planning well in advance, as the admission process can be competitive. Ensure timely submission of your application.
Program Research: Explore the diverse programs offered by the IOLL and choose one that aligns with your interests, career goals, and academic background.
Engage in Extracurricular Activities: Participation in extracurricular activities related to language and linguistics underscores your passion for the field and enhances the competitiveness of your application.
Craft a Compelling Personal Statement: Your personal statement is your platform to explain why you're eager to join the IOLL and how you can contribute to the institute's mission.
Interview Preparation: If invited for an interview, be ready to discuss your academic background, career aspirations, and reasons for your interest in joining the IOLL.
For More Information, IOLL University of Punjab
For More Informatiom or any query, You can contact us on:
Contact no: +92-42-99231272
G.mail: [email protected]
Thanks for visiting GMC