Introduction
Welcome to our comprehensive guide on IIUI University admissions for the year 2023. If you are an aspiring student looking to join one of the leading educational institutions in Pakistan, you've come to the right place. In this article, we will provide you with detailed information about IIUI University admissions, including the application process, eligibility criteria, important dates, and tips to enhance your chances of securing a place at this prestigious university.
Why Choose IIUI University?
IIUI University, also known as the International Islamic University Islamabad, is renowned for its academic excellence, state-of-the-art facilities, and diverse range of programs. Established in 1980, the university has become a symbol of quality education and intellectual growth. IIUI University offers a wide array of undergraduate and postgraduate programs across various disciplines, ensuring that students have ample options to pursue their desired fields of study.
IIUI University Admissions Process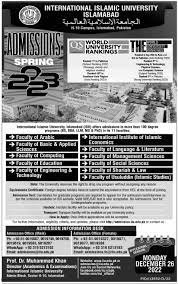 1. Eligibility Criteria
Before applying for IIUI University admissions, it is essential to meet the eligibility criteria set by the university. The criteria may vary depending on the program you wish to enroll in. Here are some general requirements:
For undergraduate programs, applicants must have completed their secondary education (12 years of schooling) or an equivalent qualification.
For postgraduate programs, applicants must possess a bachelor's degree in the relevant field from a recognized institution.
Some programs may have additional requirements such as entry tests, interviews, or minimum grade point averages (GPAs).
2. Application Procedure
To initiate the application process, follow these steps:
Visit the official IIUI University website (www.iiu.edu.pk) and navigate to the admissions section.
Select the desired program and carefully read the admission guidelines, instructions, and requirements.
Fill out the online application form accurately and provide all the necessary details.
Upload the required documents, including educational certificates, transcripts, identification documents, and passport-sized photographs.
Pay the application fee through the provided payment methods.
Submit the application form and keep a copy of the submitted form for future reference.
3. Important Dates
It is crucial to stay updated with the admission schedule to ensure you don't miss any deadlines. Here are some important dates for IIUI University admissions 2023:
Application Start Date: [Insert Date]
Application Deadline: [Insert Date]
Entrance Tests (if applicable): [Insert Dates]
Merit List Announcement: [Insert Date]
Fee Submission Deadline: [Insert Date]
Commencement of Classes: [Insert Date]
Please note that these dates are subject to change, so regularly check the official IIUI University website for any updates.
Tips for Successful Admissions
To enhance your chances of securing admission to IIUI University, consider the following tips:
Research Your Desired Program: Gain a deep understanding of the program you wish to apply for. Familiarize yourself with the curriculum, faculty, and career prospects associated with the program.
Prepare for Entry Tests (if applicable): Some programs at IIUI University require applicants to take entry tests. Dedicate sufficient time to prepare for these tests, as they play a crucial role in the admission process.
Focus on Academic Excellence: Maintain a strong academic record throughout your educational journey. Good
Emphasize Achievements and Impact: Take the opportunity to showcase any notable achievements or contributions resulting from your extracurricular involvement. This could include awards received, successful initiatives led, improvements made to a club or team, or any positive changes you brought about through your leadership abilities. Quantify your achievements whenever possible to provide tangible evidence of your impact.
Connect with Your Desired Program: Demonstrate how your extracurricular experiences align with your chosen program of study. Highlight how these activities have developed skills and qualities that are relevant to your field. For example, if you are applying for a business program, emphasize your experience in managing a student-led business or organizing entrepreneurship events.
Provide Supporting Documentation: Where applicable, include supporting documentation, such as certificates, letters of recommendation, or portfolios, to authenticate your extracurricular achievements. These additional materials add credibility to your application and give the admissions committee a comprehensive view of your abilities.


Thanks for visiting gmc.com.pk