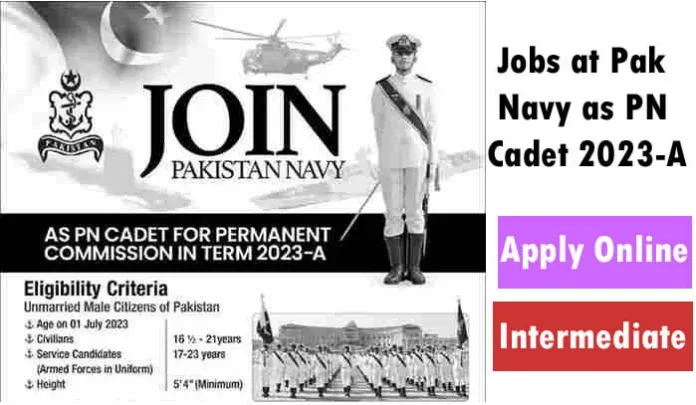 Pak Navy as PN Cadet 2023-A | Apply Online:
Jobs at Pak Navy as PN Cadet 2023-A | Apply Online are open for all Pakistani candidates who want to serve in the Pakistani Navy. Through its most recent advertisement, the Ministry of Defense recently disclosed many openings for Pakistani nationals. Candidates seeking employment with the Ministry of Defense are urged to submit an application through this post.
Just recently, the Pakistan Navy introduced the PN Cadet program for Pakistani residents. For the PN Cadet program, pupils from all around Pakistan are able to apply. The announcement for the Pakistan Navy Commission Term 2023-A was made on its main web site. A superb possibility for young, enthusiastic prospects to add to Pakistan's future success in addition to protect and also battle any dangers to the country's honesty.
Prospects need to submit their applications prior to the deadline for these positions since the application procedure is online. Prospects who have an interest in the program has to have completed their intermediate (A levels, FSC). Candidates will certainly be provided a payment ranking once they have finished their training at the Pakistan Naval Academy. The Pakistan Navy's PN Cadet program lasts for two years.
see more
Complete Details of Jobs at Pak Navy as PN Cadet 2023-A
| | |
| --- | --- |
| Published Date | 23 October 2022 |
| Job Location | Pakistan |
| Eligibility | Pakistani Males |
| Required Education | FSc. A level (Intermediate) |
| Organization Name | Pakistan Navy |
| No of Vacancies | Various |
List of Available Jobs:
BS (Mechanical)
Supply Engineering Branch in BS (MIS)
Weapon Engineering Branch
Operations Branch
Marine Engineering Branch
BE (Electronics)
BS (Supply Chain Management)
Required Education for jobs:
Candidates must have obtained at least 60% in their A Levels or FSC exams.
Candidates with A-level degrees must present a certificate of equivalency.
Students who completed their first year with at least 60% of the required marks may apply using the hope certificate.
Eligibility Criteria:
Candidates must meet the requirements listed below in order to apply for jobs with the Pakistan Navy:
Both civil candidates and in-service candidates must be between the ages of 16 and 21.
Aspirants must be at least 5 feet 4 inches tall.
The application is open to all Pakistanis.
Necessary Documents:
CNIC
Passport size image
Domicile
Education documents
Experience certificates
Application Last Date:
The Deadline to Apply for Jobs at Pak Navy as PN Cadet 2023-A | Apply Online is 06 November 2022.
Guideline on How to Apply for Jobs at Pak Navy as PN Cadet 2023-A | Apply Online:
The website contains both the online application form and the deposit slips again for the online application fee. Hard copies The application form must not be submitted.
You must pass the following examination:

Computer Based Test
Physical Test
Medical

You must take the ISSB test after passing the test mentioned above. Candidates who have been recommended will go through the final medical.
Notification slips for tests or results won't be delivered via mail or courier
Selection Criteria:
The entrance test will be the first step in the selection process, and the date will be sent by the appropriate PNR & SC through SMS following an upgrade in COVID-19. The following topic areas, including the Intelligent tests and Academic tests, will be covered in the Pandemic situation and E-testing/Computer-based tests (English, Physics, Maths, & General Knowledge).
The findings of the electronic testing will be communicated to each person after it is finished.
In order to be eligible to obtain application forms for the preliminary/medical interview, candidates must pass the entrance exam. This interview will take place on the relevant PNR & SC.
The final choice will be determined by merit.
Official advertisement of Jobs at Pak Navy as PN Cadet 2023-A
Thanks for visiting GMC. GMC is a website which provide daily admissions, scholarship, jobs and tech News.